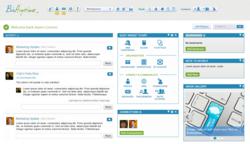 Tucson, AZ (PRWEB) April 16, 2013
– BizAnytime, the company behind a new all-in-one suite of cloud collaboration tools, just completed a successful closed beta and announced its official launch this week.
The BizAnytime web application is geared toward team and client management and boasts an intuitively designed set of features, including online video conferencing, unlimited cloud file and document storage, RSS feeds, document collaboration and a project management dashboard. BizAnytime unique set of features and low price point allow it to compete nicely against Office 365 and Google Apps.
We built this technology to improve and increase productivity by as much as 30% and drive revenues to a higher level for businesses when working with their clients, said Leif Hartwig, BizAnytime Founder and CEO. Its like having Dropbox, Basecamp, GoToMeeting and others all wrapped up in an easy-to-use format for a fraction of the price.
After running trials with multiple companies over a six-month trial period, BizAnytime proved its worth through a host of unique features and benefits that other cloud collaboration applications do not provide. The application features all the key office tools and services necessary to manage small businesses and teams within the corporate structure at only $ 10 per user, per month (free 30 day trial). With unlimited storage, real-time document collaboration and full-service web conferencing, it has all the ingredients to do business with both employees and customers.
With the potential to increase revenues for you, this all-in-one web application is a powerful investment for small businesses and corporate project teams. The applications customizable dashboard and unlimited workspaces are invaluable when organizing tasks, teams, projects and entire business structures.
Visit http://app.bizanytime.com/register to learn more and sign up for this innovative client service and management application.