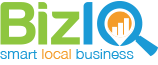 Phoenix, Arizona (PRWEB) November 21, 2013
BizIQ, an Arizona-based web-marketing firm, has announced an expansion of its brand and services, allowing small businesses to leverage comprehensive online profiles to gain traction in their local markets.
Offering local marketing services, website development, mobile solutions and optimized content provision, BizIQ is changing the way small businesses compete online. In working with clients across North America, the company has become a standalone expert in local search engine marketing, allowing small business owners to enjoy tools and expertise previously unavailable in a low-cost capacity.
Because we started as a small business, we understand the hurdles that many small business owners have to face when they begin to market their brand and services online, says Garrett Cisek, Co-Founder and Managing Partner at BizIQ. By offering the necessary tools to create an optimized online presence, as well as overseeing the execution and management of these tools, were able to help small business owners compete in a marketplace that was previously reserved for big-box companies.
Web design and development, local search and map optimization, social media management, tracking and analytics, content marketing and directory management are among the services offered by BizIQ. Other services include video production, ecommerce solutions and search engine marketing, which serve to increase the accessibility and identity of local businesses.
Thanks to BizIQs refined grasp of the local search marketplace, as well as its tailored emphasis on small business owners, the company is proud to offer its vast selection of service options at highly competitive, affordable rates. The company aims to address the needs of small business owners specifically, allowing them to reap the benefits of an unmatched online marketing campaign that fits any small business budget.
Were all encompassing in our approach to generating local brand exposure, says Cisek. These days, its not good enough to just have a website or a blogit takes optimization and cross-platform marketing to make these things valuable. BizIQ is here to make your brand work for you, without changing who you are as a small business. In doing this, weve helped keep small businesses big players in their local markets, for a price thats well below our major competitors.
# # #
About BizIQ

BizIQ is a leader in local search engine marketing. Having acquired nearly 4,000 clients since 2012, the company continues to offer a refined array of services including local marketing and search marketing management at affordable rates. BizIQ prides itself on providing comprehensive marketing solutions for small to medium-sized businesses across North America, giving them the tools they need to succeed in their local market.
For more information on BizIQs services, please visit http://www.ebiziq.com/.