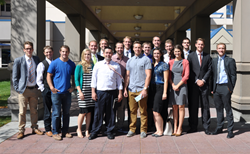 Salt Lake City, UT (PRWEB) October 31, 2014
Utah-based SEO content company BKA Content recently met with members of the Utah State University Entrepreneur Club to discuss what it takes to start and run a successful tech business. The hour-long presentation was held at the USU extension center on 2500 S. State St. in Salt Lake City, UT. Matt Secrist, the co-founder and VP of Business Development at BKA Content, and Drew Allen, the VP of Sales at BKA content, presented in front of a crowd of around 20 students from the Huntsman School of Business at USU. They talked about their roles in the company, what the company does, how it was created, and also gave some advice and tips on how to start a successful business. They then opened up the discussion for some Q and A.
Matt and Drew both graduated from Utah State University Matt with a dual major in Finance and Economics in 2009, Drew with a dual major in Economics and International Business in 2010. Matt was also a member of the USU Entrepreneur Club as an undergraduate.
Being an alum, Utah State University will always hold a special place in my heart, stated Matt Secrist, VP of Business Development at BKA Content. We thoroughly enjoyed the time we got to spend with some of USUs finest up and coming business minds. We were able to discuss our first-hand experience with starting a business and also give some advice as to what we wish we would have known 5 years ago. I gained a lot of real world experience up at Utah State and love opportunities like this where we are able to give back.
For more information on BKA Content team members and how the company was founded, please visit http://www.bkacontent.com/about/About BKA Content and click on the Our Story tab.
About BKA Content
BKA Content is one of the leading SEO content providers on the web today. They have served clients ranging from SEO Agencies to Fortune 500 companies. Their services include the creation of both on-page and off-page content and they provide content solutions through the use of managed writing teams, dedicated account managers and quality writing. To acquire more information on the services that they provide, please visit http://www.bkacontent.com/.