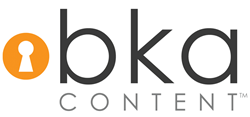 Ogden, UT (PRWEB) January 31, 2015
BKA Content has announced their sponsorship of booth #25 at the SMX Advanced Conference in Seattle, WA on June 2-3, 2015. The SMX Advanced conference will be held at the Bell Harbor Conference Center and will be geared towards experienced internet marketers that already have a background in SEM and SEO. The sessions move quickly, have in-depth Q&A sessions, and provide insights from the most accomplished search marketers in the world.
BKA Content will be sponsoring a booth in the Expo Hall of the SMX Advanced conference. The Expo Hall opens on Tuesday, June 2 from 10:15AM to 7:00PM, and again on Wednesday, June 3 from 10:00AM to 2:00PM. All attendees of the show have unlimited access to the Expo Hall where they can converse with vendors about their custom SEO projects.
Another year, another SMX Advanced show to look forward to, stated Greg Secrist, CEO of BKA Content. Not only are the classes more detailed and data driven than other shows, but the expo hall is much more intimate. This is one of the best shows to meet one-on-one with some of the biggest influencers in business. Having gone to this show for over 3 years now, we are excited to see what new relationships we can make this year and the impact we can have on their bottom lines.
Attendees of the show can meet with the sales staff of BKA Content to talk about creating SEO content, guest posts, landing pages, blog posts, product descriptions and more. For more information on BKA Content and the SEO ecommerce products and managed services they provide, please visit http://www.bkacontent.com/managed-services/.
About BKA Content
BKA Content is one of the leading SEO content providers on the web today. They have served clients ranging from SEO Agencies to Fortune 500 companies. Their services include the creation of both on-page and off-page content and they provide content solutions through the use of managed writing teams, dedicated account managers and quality writing. To acquire more information on the services that they provide, please visit http://www.bkacontent.com/.