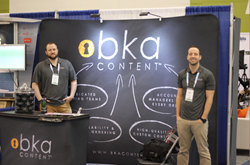 Ogden, UT (PRWEB) January 30, 2015
Leading SEO content provider BKA Content has just announced their sponsorship of booth #318 in the exhibition hall at SMX West in San Jose, CA this March. SMX West is a conference devoted to search marketing and will present over 60 sessions of practical SEO and SEM tips and techniques for attendees. The conference will be held in the San Jose McEnery Convention Center and will officially run from Tuesday, March 3 until Thursday, March 5, 2015. The Expo Hall will be open from 12:00PM to 6:00PM on Tuesday, March 3 and from 10:00AM to 4:00PM on Wednesday, March 4. All attendees of the show will have unlimited access to the Expo Hall. BKA Content will have 3 staff members available to answer questions and provide custom solutions. The Expo Hall will be closed on Wednesday, March 5.
SMX West has consistently been one of the best conferences on the SEO/SEM tradeshow circuit, stated Drew Allen, VP of Sales at BKA Content. Every year we meet new, qualified businesses in need of high-quality content. We are excited to be heading back out to the west coast to see how we can help businesses take their content marketing to the next level.
A member of the BKA Content management team will also be giving a theater presentation at the tradeshow in one of the two Theaters located near the Expo Hall. More details will be given on that speaking assignment in weeks to come.
BKA Content creates content for enterprises, agencies, small and medium size businesses and ecommerce shops. For more information on BKA Content and the custom SEO content solutions that they offer, please visit http://www.bkacontent.com/.
About BKA Content
BKA Content is one of the leading SEO content providers on the web today. They have served clients ranging from SEO Agencies to Fortune 500 companies. Their services include the creation of both on-page and off-page content and they provide content solutions through the use of managed writing teams, dedicated account managers and quality writing. To acquire more information on the services that they provide, please visit http://www.bkacontent.com/.