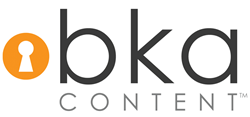 Salt Lake City, UT (PRWEB) March 31, 2015
SEO content creation company BKA Content has announced they will be sponsoring booth #356 at the Internet Retailer Conference and Exhibition (IRCE) in Chicago, IL on June 2-4, 2015. The conference will be held at the McCormick Place West in Chicago and will feature keynote speakers such as Jason Goldberger, the President of Target.com, as well as Alexis Ohanian, the Co-Founder and Executive Chairman of Reddit, among many others. IRCE is the largest e-commerce event in the country, presenting speakers and sessions from over 200+ experts in their industry.
The BKA Content booth will be located in the Exhibit Hall on Tuesday, June 2 from 4PM-6:30PM, on Wednesday, June 3 from 9AM to 6:30PM and on Thursday, June 4 from 9AM-4PM. The BKA Staff will be available to answer questions on content creation as well as to help create custom content solutions for agencies, corporations and internet marketers. The Exhibit Hall is a great opportunity for attendees to network, make connections, and find valuable solution providers. The Hall will also have featured areas and lounges, including free internet, complimentary massages, cocktail receptions, and even a golf zone.
IRCE was an incredible show last year, stated Drew Allen, VP of Sales at BKA Content. We are excited to once again bring quality content creation solutions to the countrys largest e-commerce event! Last year we were able to help a large number of companies out with product and category description creation as well as creating web pages for new e-commerce sites. We are looking forward to bringing our e-commerce content expertise to the show to help even more companies maximize the content value of their sites.
For more info on the content solutions that BKA provides, including e-commerce content such as product descriptions and category pages, visit http://www.bkacontent.com/product/product-descriptions/.
About BKA Content
BKA Content is one of the leading SEO content providers on the web today. They have served clients ranging from SEO Agencies to Fortune 500 companies. Their services include the creation of both on-page and off-page content and they provide content solutions through the use of managed writing teams, dedicated account managers and quality writing. To acquire more information on the services that they provide, please visit http://www.bkacontent.com/.