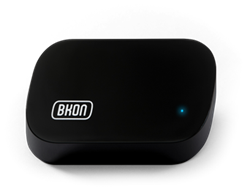 Nashville, TN (PRWEB)
July 23, 2015
Built by a team of experts in hardware engineering, software development and enterprise business development, BKON is introducing the easiest way for retailers and marketers to create and manage a Physical Web presence with PHY.net. And, with Googles recent announcements regarding Eddystone and Chromes support of the Physical Web, there is now an immediate audience for anyone who would like to share relevant content.
PHY.net is:
Fast — Dont miss opportunities: Using PHY.net, a content owner can provide nearby visitors with relevant information almost immediately. For example, a retail manager could see it is raining and update their Physical Web beacon to promote a rainwear promotion, rather than a sandal promotion, in fifteen seconds.
Easy — Dont waste labor: Other Physical Web beacons have to be disassembled, reset and paired to a URL before being deployed. With BKONs PHY.net-friendly beacons, content owners can simply reassign a new URL from any browser without ever touching the beacon.
Remote — Dont waste time: Retailers can change content from anywhere; there is no need to be in close physical proximity, so franchise owners can control Physical Web beacons for all of their locations without ever leaving their company headquarters.
Traditionally, the only way for retailers to effectively create a mobile presence and engage with nearby customers has been to create an app, which is expensive to build and implement. The Physical Web is bringing browsers back to the forefront of mobile engagement, so the cost barrier for retailers has dramatically decreased. Now, instead of spending tens of thousands of dollars on an app, BKON allows retailers to create a Physical Web presence, quickly, and for less than $ 50.
The fact that it will no longer cost tens of thousands of dollars for business owners to create a mobile presence that people actually pay attention to, is an absolute game changer for small business owners, said BKONs CEO Richard Graves. Store owners who thought they could never afford to engage in proximity marketing with their customers will now be able to reach those people for a fraction of the cost.
Content created and broadcasted through the Physical Web will not be sent to a consumer via unwanted push notifications. Instead, consumers can access the relevant content they want as they come across it, and theyll know when the content is available after noticing a universal Physical Web logo displayed by a retailer; however, as people learn about the valuable and interesting content on the Physical Web, curiosity will eventually drive their search.
People are getting tired of the privacy concerns that come with apps, as well as their push notifications, said Graves. Consumers know the information they want and when they want it. The Physical Web makes it easy for them to find and access nearby information.
PHY.net is a full platform of tools for marketers, educators, business owners, entertainers and anyone else wanting to establish a presence on the Physical Web. For more information about PHY.net, visit http://PHY.net.
ABOUT BKON

BKONs founding team is made of experts in hardware engineering, software development, manufacturing, marketing and product design. They have extensive experience working with brands including AT&T, Boeing, Lockheed Martin and LEGO. For more information about BKON visit http://bkon.com. For more information about BKONs A1 hardware, visit http://bkon.com/a1.
ABOUT THE PHYSICAL WEB

The Physical Web is part of the larger Internet of Things (IoT). Researchers at Gartner are saying that the influence of the IoT will grow to 25 billion devices in just the next 5 years. Other researchers at Cisco anticipate that number to be 50 billion. For more information about the Physical Web, visit http://bkon.com/the-physical-web.