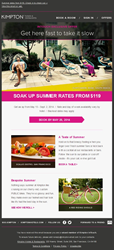 Atlanta, GA (PRWEB) May 08, 2015
Late last month, the Web Marketing Association (WMA) presented BKV, a full-service direct and digital marketing agency, with two IAC Awards for achievement: one in email, the other in integrated marketing. The Internet Advertising Competition (IAC) was initiated by WMA in 1999. Every year, this award competition recognizes outstanding digital creative.
BKV won Best Hotel and Lodging Email Message Campaign for client Kimpton Hotels and Restaurants. The agency also won Outstanding Integrated Ad Campaign for nonprofit client March of Dimes annual March for Babies walk.
Its deeply gratifying to receive this recognition from our peers in the WMA, commented BKV EVP/Chief Creative Officer, Alan Blose. While BKV has consistently received awards in direct and digital marketing over the last thirty years, were especially honored to have our creative efforts recognized by this prestigious international panel of judges.
With wins in a number of recent global, national and regional competitions including the Hermes Creative Awards and the AMY Awards BKV continues to earn recognition for its unique ability to create innovative programs that bolster brands and generate extraordinary results. Were looking forward to bringing home even more successes for BKV and for our clients, says Blose.
About BKV

BKV is a full-service direct and digital advertising agency that specializes in using data-driven strategies that drive business results. BKVs client portfolio includes local, national and global brands. The agency provides digital and traditional media services, including creative, web development, CRM, SEO, social media, digital PR, direct mail, DRTV, database management, analytics and data modeling. For more information, visit http://www.bkv.com.
About WMA

The Web Marketing Association was founded in 1997 to help define the standard of excellence for online marketing. Their internationally known award programs, such as WebAward Competition for Website Development, Internet Advertising Competition and the MobileWebAwards, recognize the people and organizations responsible for developing the most effective online marketing programs on the Internet today. Learn more at webmarketingassociation.org.