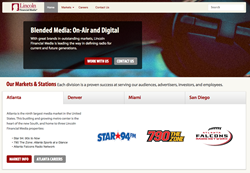 Atlanta, GA (PRWEB) January 28, 2014
Lincoln Financial Media, one of the largest media companies in Atlanta, GA, has taken a bold move to increase its awareness of its brand online by redesigning its website. The company, which owns 16 radio stations in Atlanta, Denver, Miami and San Diego, has been using its website to provide information about its operations, events and careers. However, the website was simply not helping in brand awareness like the management wanted. After a number of meetings by the heads of different departments, it was agreed that complete website redesign was necessary to position the company as a leading, modern media company. From there, the search for the right web design company began.
With many web design companies in Atlanta, it was not easy for Lincoln Financial Media to decide on the right company to work with. In particular, the company was looking for a design agency that could provide a fresh spark on their website and still adhere to the best practices of design. The website had to spot a clean corporate design that will make LFM stand out online. After a thorough evaluation of different design agencies, LFM finally settled on working with Black Bear Design.
Online Marketing Services with Black Bear Design
Companies looking to have an edge over their competitors can differentiate themselves through professional branding. Black Bear Design is one of the leading online marketing agencies in Atlanta that help companies craft formidable brands that endear them in their markets.
What sets Black Bear Design apart from other agencies is its ability to exactly meet what their clients want. The design agency has a creative team that works hard to exceed expectations and is versatile in its deliveries. The agency is all about creating an awesome experience for brands by leveraging modern web design technologies and online marketing techniques.
When approached to redesign Lincoln Financial Medias website, the team at Black Bear Design knew they had to impress. LFM wanted a modern web design look for its corporate website that will act as a hub for the companys services and related information. The team at Black Bear Design got to work as soon as the vision was clear. A few mock ups were created and presented for approval by Lincoln Financial Medias contact team. The mockups were refined and the web development work got underway.
Black Bear Design designed LFMs website following modern web design best practices. The website design was made crisp as well as responsive. Responsiveness is important considering that more people are using smartphones and other devices to search for information online. With a responsive website, visitors at Lincolns website do not have a disrupted experience. The finished website design can be seen at http://lincolnfinancialmedia.com/.
About Lincoln Financial Media
Lincoln Financial Media is a subsidiary of Lincoln Financial Group, an insurance and financial services company. The company is fully owned by Lincoln Financial Group and started operations in 1934. Today, Lincoln Financial Media has expanded its portfolio to 16 radio stations, all in top 20 markets.
Lincoln Financial Media is based in Atlanta, GA. To find out more about the company, visit http://lincolnfinancialmedia.com/.
About Black Bear Design
Black Bear Design is one of the top digital marketing agencies in Atlanta. The agency provides a range of services including web design, website redesign, logo design, graphic design, search engine optimization (SEO) among others.
To find out more about Black Bear Design, visit the companys website at http://www.blackbeardesign.com/ or give them a call at (678) 534-1143.