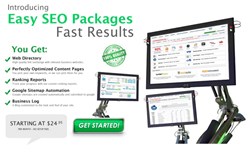 San Clemente, CA (PRWEB) July 25, 2013
Search engine marketing leader Blackwood Productions recently launched new tools to automate the most time-consuming tasks in optimizing a web site, unleashing a unique system that industry experts predict will make the delivery of digital marketing faster and cheaper.
The goal of our tools is to automate the most tedious tasks involved in search engine marketing to allow our experts to focus more of their time and efforts on achieving top rankings and while keeping costs low for our clients, explains Robert Bibb, CEO for Blackwood Productions Inc. and a native of Summersville, West Virginia.
The tool allows semi-automatic content generation and configuration of linksa first in the industry. This timesaving technology has allowed Blackwood Productions to grow its client roster to over 38,000 clients and serve up more than 1.2 million content pages everyday. It automates site "uptime," malware, and index monitoring, "ping" notifications and confirmations, duplicate content checking, XML sitemap creation, inbound one-way linking.
Bibb was quick to clarify that even though the system is semi-automatic, human-driven quality control is still in force. Content writing is not automated. Blackwood Productions employs skilled SEO writers to optimize a client's pages based on the most suitable topics, which are decided by the client's primary value proposition and keywords. The directory is also monitored by the companys employees.
Our link network is human-monitored to ensure relevance and quality, so it complies with Googles strict guidelines. All websites are vetted and approved before inclusion. The network is not a link farm. It is 100% free of spam, explain Bibb. The major difference is that we can automatically determine which of the websites listed are relevant to each other, and then create one-way link exchanges that benefit them all. This is something that would usually take a lot of time, but for us, it only takes seconds, he adds.
Perhaps the biggest benefit of semi-automation is that it saves the clients a lot of money.
Our clients no longer have to pay for the man hours that go into those tedious tasks, which other search engine marketing companies charge for, Bibb clarifies. Our pay-as-you-go prices are the most affordable in the industry. We dont even force clients to sign long-term contracts. They can quit anytime they want.
Blackwood Productions boasts tools that cover all aspects of search engine marketing, including search engine optimization, paid search, inbound marketing, e-mail marketing, display advertising, and social media. The pioneering system entitles clients to a weekly PRWeb news release, a weekly blog for social media such as Facebook, LinkedIn, and Twitter, and access to the companys revolutionary WebWorks technology. WebWorks is an all-in-one tool for organic optimization, pay-per-click campaigns, display advertising, and Google Suite integration.
Blackwood Productions has long been praised in the SEO community for its groundbreaking technologies. Lately, it has also been lauded for its transparency. In an industry known for secrecy and ambiguity, the company is not afraid to show exactly what goes on, giving clients the clearest picture of where their campaigns stand.
"On our website, there is a real-time results page that displays daily ranking gains, what tasks we have completed, the latest testimonials, the current network size, and many other metrics that other search engine marketing companies do not dare to show," Bibb says. "By keeping everything transparent, we continue to keep our clients trust. We are also giving potential customers the chance to test how our systems work before they join," he adds.
Industry analysts agree that Blackwood Productions is changing the way search engine marketing is done.
Because they are semi-automating the time-consuming and repetitive functions involved in SEO, they have the time and the energy to go the extra mile on core tasks. Their experts can focus on the detailsthose little nuances that truly make a difference in how well a website ranks.
To contact Blackwood Productions, call 1.877.823.1543 or visit http://www.blackwoodproductions.com