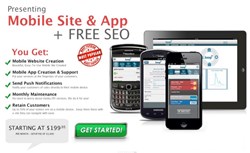 New York, New York (PRWEB) August 14, 2013
In response to the statistics released by PQ Media through a report entitled, "Global Digital & Alternative Media Revenue Forecast 2013-2017," Blackwood Productions is introducing a platform for building turnkey mobile websites integrated with loyalty apps. The platform is designed to help small businesses take advantage of the 50% smartphone adoption in the United States by showing their products and services to the growing population of mobile web users while building a loyal customer base.
Industry analysts say that Blackwoods mobile technology works best for businesses seeking targeted localized solutions. It seeks to solve the mobile marketing needs of small businesses in a precise, seamless, and integrated method that is unique in the current marketplace. The new platform optimizes audience targeting and social media planning while determining the optimum loyalty apps with the biggest conversion rates.
"What makes a mobile website truly effective from a marketing point of view is its ability to turn visitors into returning customers using loyalty programs," explains Robert Bibb, CEO of Blackwood Productions. "Thats the kind of mobile sites we offer. We combine search engine optimization and the right loyalty apps to ensure that our clients attract and retain customers who will be with them for the long haul."
The PQ Media study shows that 40% of users who land on websites that are not mobile-optimized click off, causing serious revenues losses for companies that have not embraced the mobile trend.
"Business owners need to respond to this new realitythey need to reach consumers with a mobile optimized website, and then retain their attention through well-matched promos and rewards. Our job is to make that easier to do. We design great-looking mobile websites and implement winning loyalty formulas with measurable results. We want to provide cost-efficient mobiles that deliver the right messages to the right customers at the right time," Bibb adds.
Blackwood Productions first made its name as a search engine optimization (SEO) powerhouse over a decade ago, and is often described as one of the fastest in the industry in terms of delivering results. The Google rankings of its SEO clients typically improve within a month, and the results persist. The company aims to bring the same speed and efficiency in its new mobile website offerings.
"About two weeksthats how fast it took for us to increase both online sales in-store foot traffic for some of our most successful mobile website clients," Bibb says. "With our combination of effective mobile web design and relevant loyalty apps, we are able to increase user engagement by as much as 40% in just 14 days."
To ensure this level of success, Blackwoods mobile marketing experts stay on top of the latest trends in loyalty building, from rewarding influencers to encouraging social engagement. The company offers a long list of loyalty apps, some of which reward shoppers with points or cash-backs simply for walking into stores, checking in on FourSquare, or making a purchase.
Design and function also remain top priorities. Blackwoods mobile websites integrate features that make it much easier for a mobile web visitor to interact with the business.
The click to call feature, for example, allows customers to call the client with just a click from their mobile phone. The location feature provides GPS activated directions to help the customer find the clients store. The push notification app makes it easy for the customer to save the clients icon on his mobile phone, effectively linking him back to the mobile website with one click. Blackwood also offers brand-specific design options, ensuring that each clients mobile website looks unique.
"We dont just create generic mobile sites with links," Bibb explains. "We create sites that are extensions of our clients business brands."
"Users expect their mobile experience to be as good as, if not better than, their desktop experience. That is why we put a lot of work into designing mobile websites, ensuring that they are search optimized, look great, load fast, and turn visitors into buying customers."
About Blackwood Productions
Blackwood Productions is a leading SEO and digital marketing company leveraging the internet, social media, and mobile devices to enhance its clients' e-commerce performance. It represents over 38,000 websites in multiple industries and is currently one of the biggest in the country. Blackwood Productions is headed by a team of SEO veterans with over 30 years of combined experience. For more information, visit http://www.blackwoodproductions.com