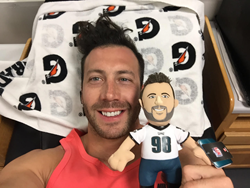 Plymouth Meeting, PA (PRWEB) June 02, 2015
Bleacher Creatures, the innovative licensing manufacturer known for its incredibly true-to-life plush figures of pro-sports stars and entertainment characters, and Philadelphia Eagles linebacker Connor Barwin are partnering with online marketing firm Soldsie in a unique fundraiser for Barwins philanthropic foundation.
Through his officially verified Facebook (https://facebook.com/officialconnorbarwin) and Instagram (http://www.instagram.com/connorbarwin98) pages, Barwin will display his uncannily realistic 10-inch-tall Mini-Me, the plush creature made in his likeness by Bleacher Creatures. When fans simply comment the word SOLD on the Facebook post and comment the word SOLD plus their email address on Instagram, they will automatically be sent the invoice to complete their purchase for the Barwin 10 Bleacher Creature plush. It is that simple.
A portion of each sale will go directly to Barwins Make the World Better Foundation, which provides safe, clean, and fun playgrounds and spaces for young people and their families to play and be creative. Barwins Facebook and Instagram posts about the Bleacher Creatures plush sale will appear on Tuesday, June 2just in time for Fathers Day on Sunday, June 21.
We are very excited to be partnering with Connor and Soldsie as we give Connors fans the chance to hang out with Connorwell, his 10-inch-tall plush version!and make an important contribution to his foundation, says Matthew Hoffman, founder and CEO of Bleacher Creatures. Connors plush is the best-selling sports superstar in our online store, and he was a huge hit when he appeared live at our booth at Toy Fair. You can see why hes so popular: Hes not only a great athlete, hes a truly great guy.
The minute I saw this plush, I said, This is awesomethey got the hair right! says Barwin. Then I saw how my teammates reacted: They all wanted one for their kids. So I realized this could also be an outstanding opportunity to do something terrific for a lot of other kids, as well. Im really happy that Bleacher Creatures and Soldsie are making this happen, and helping my foundation give kids great places to play.
MTWB (named for Barwins parents, Margret Thomas and William Barwin) will complete its first project this summer at Ralph Brooks Park in South Philadelphia. The park is a multi-faceted neighborhood revitalization project with a focus on providing safe, engaging space for youth in the under-served community of Point Breeze, Philadelphia.
About Bleacher Creatures

Bleacher Creatures is an innovative licensing manufacturer that produces a variety of childrens toys through partnerships with professional sports leagues and entertainment companies. Bleacher Creatures are incredibly true-to-life plush figures of the greatest athletes and entertainment icons, allowing young fans (those who are young at heart) to put their passion in play. Bleacher Creatures' goal: to encourage fun, inspiration and, of course, play among fans of any age.
About Soldsie

Upload a product photo, your fans comment Sold, and Soldsie completes the sale. By harnessing the social reach of Facebook comments and being as mobile friendly as Facebook, Soldsie posts convert better than links out to a shopping cart. Join thousands of merchants that have turned Facebook into their best sales channel at Soldsie.com.
About Make the World Better

MTWB, Make The World Better, is a 501(c)(3) non-profit organization formed in December of 2013 by Philadelphia Eagles linebacker Connor Barwin. MTWB believes that communities prosper when young people have access to athletics and the arts. To help make this happen MTWB looks forward to working with other foundations, businesses, neighborhood organizations, local government, and passionate individuals to Make The World Better, one play/arts area at a time.