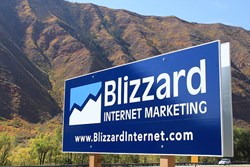 Glenwood Springs, CO (PRWEB) September 20, 2013
Blizzard Internet Marketing is hosting a Blizzard University workshop in conjunction with RezFest on Tuesday, September 24th from 9 am until 5 pm at the Red Rock Casino Resort and Spa in Las Vegas, NV.
The workshop is packed with useful information such as the top 5 Must Haves for online marketing in 2014, SEO best practices, website analysis, mobile applications, local search, social media, and much more. Our newest and highly praised format allows one-on-one interaction with our experts at roundtables on a variety of the hottest topics affecting online marketing today. Dont miss it!
This workshop has something for everyone, said Eric Fullerton, V.P. of Sales and Marketing for Blizzard. Whether youre a novice or an experienced pro, were sure that youll gain useful and practical solutions from this workshop that can be applied immediately to increase your online marketing results.
The internet/email marketing world is dynamic, ever changing and often overwhelming to me, stated Elliott Johnson, Jr., owner of Three Palms Real Estate in Orange Beach, Alabama. Blizzard is consistently staying in tune with the cutting edge technologies and methods to ensure my company is receiving the exposure and contact with past and future customers in this very competitive world. Their suggestions, attention to detail and follow-through have helped make them one of my most valued partners. Although that word is used loosely, they truly help determine and fuel my success."
Blizzard Internet Marketing, Inc. is the leading provider of Internet marketing services to the U.S. hospitality industry. Established in 1997, Blizzard has developed advanced expertise in the marketing of vacation rentals for property management companies. Blizzards proactive, team-based and personalized account management includes integrated website design, marketing promotion, web hosting, Search Engine Optimization (SEO), and direct e-mail marketing services.
For reservations or more information, go to Blizzard Internet Marketing or call 888.840.5893 Ext 131.