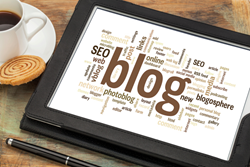 Seattle, WA (PRWEB) December 08, 2014
While it may seem like the only people left blogging are health food fanatics and those seeking simply to express themselves, blogging is an incredibly effective tool when working to publicize your business to your local community, Fannit says in their most recent article. They explain that blogging, or content marketing, can be for most industries a wonderful way to increase local awareness and improve SEO.
Their article gives tips on how to create exceptional blog content that is not only enjoyable for readers, but also optimized for SEO purposes. Through the use of keywords and local targeting, businesses can increase brand awareness in their areas.
Of course, they acknowledge that its more than just internet content they also advise that businesses attend local events, frequent local places, and network with other local businesses. These attendances can be talked about in blogs, but the primary benefit is the local connections that are made.
Those who are interested in learning more about how content marketing services can help businesses increase revenue and achieve greater brand awareness, visit Fannits website at http://seattle-seo.net
About Fannit

Fannit.com is a full service internet marketing agency that helps companies increase their online presence through engaging and well placed content. They service Seattle area and U.S. based companies for content development, SEO, PPC, E-mail, Press Release, and Website Funnel Optimization.

Fannit

2911 Hewitt Ave

Everett WA 98201

425-359-7989