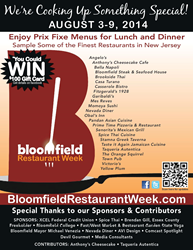 Bloomfield, NJ (PRWEB) July 10, 2014
The Township of Bloomfield, New Jersey will hold its Third Annual Restaurant Week from Sunday, August 3rd through Saturday, August 9th, 2014. During this week, an anticipated twenty plus local eateries will offer prix-fixe menu selections designed to attract both new and returning customers. At the conclusion of the week-long event, there will be a random drawing for a $ 100 gift certificate which the winner can redeem at the participating restaurant of choice.
If youre a foodie, Bloomfield is the place to be during our Third Annual Bloomfield Restaurant Week. You will get to see what our talented chefs have to offer, promises Anthony Lauro, owner of Anthonys Cheesecakes, and one of the Bloomfield Restaurant Week committee members.
Riding on the success of the previous events, this years organizing committee is optimistic that the third annual food week event will yield an even greater turnout. Francesco Palmieri, an original committee member and owner of The Orange Squirrel, a top-rated restaurant pick by The New York Times and New Jersey Monthly, predicts, Judging by the success of the first two events we expect an even stronger turn out – We are excited and optimistic that our 2014 event will be the biggest yet.
The special prix-fixe, multi-course options offered by each participating restaurant encourages diners to try several different eateries during the August promotional week. As an added incentive, customers can enter a free raffle for a $ 100 gift certificate to the participating restaurant of choice. To enter the drawing, customers can visit the Bloomfield Restaurant Week Facebook page and simply Join the Mailing List.
Andres Quesada-Cascante, founding committee member and co-owner of Se