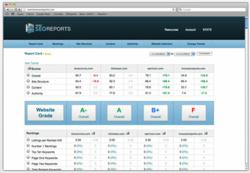 Gaithersburg, MD (PRWEB) December 14, 2012
Today, Blue Coronaone of the top SEO companies for home improvement and commercial contractorsannounced the launch of a new software built specifically for the heating, cooling, and plumbing industry. The new web-based SEO software, http://www.hvacseoreports.com, allows business owners to quickly and accurately see how their website ranks on Google for high-value keyword phrases specific to the HVAC and plumbing industry, see how their site compares to their key competitors, and identify opportunities for improvement. Contractors that have already hired an SEO firm to help them improve their site can use http://www.hvacseoreports.com to see exactly what changes are being made to their website from week-to-week and month-to-month.
SEO, and why some websites outrank others in Googles organic search results, is still a mystery to many HVAC and plumbing business owners, said Ben Landers, president of Blue Corona and one of the creators of the new software. Landers explained, We created this software to provide business owners with a logical framework with which to evaluate their website. Its not hard to see why your website is being outranked by a competitors site when youre looking things through the right set of glasses. For business owners that have already engaged an online marketing firm, we wanted to provide them with a tool they could use to create accountability and take the mystery out of SEO.
Three different versions of the software, which is web-based and sold on a monthly subscription model, are available. The Basic subscription is $ 39 per month and allows HVAC and plumbing companies to track their organic rankings for up to five keyword categories for a single city and monitor a single competitor. The Professional subscription level is more appropriate for larger companies. It allows them to track their organic rankings for up to 50 keyword categories in up to 20 different geographic areas. The Professional version also allows them to analyze and track up to six competitors and monitor their companys key social media metrics. Interest in the new software has been very high with the first sign up coming just hours after the software was set live.
About Blue Corona

Blue Corona, Contracting Magazines 2011 Business Service of the Year, helps contractors accurately track their advertising and generate more leads and sales from the web by implementing inbound internet marketing strategies such as pay per click advertising, search engine optimization (SEO), online lead generation, ad tracking, conversion rate optimization, and website redesigns. The company was most recently recognized by Inc. magazine as a member of the 2012 Inc. 500 list.
About HVACSEOReports.com

HVACSEOReports.com is the first web-based SEO software built specifically for the HVAC and plumbing industry.