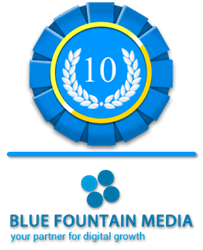 New York City, New York (PRWEB) March 12, 2014
Blue Fountain Media took the number two spot as part of 10 Best Design's awards for the Best Web Design Firms. As one of the biggest awards organizations for web design companies, 10 Best offers several design-related awards. It recently launched 10 Best SEO, which is on track to be the predominate platform to recognize excellence in online marketing.
Working with global clients big and small, Blue Fountain Media is a top web design firm offering website design, online marketing and mobile app development. Its clients include Fortune 1000 companies as well as start-ups, representing a broad spectrum of talent. This digital agency provides clients with creative yet results-driven solutions that offer a full-service approach to growing on the web.
Its strategy and consulting services include Business Analysis & Consulting, Information Architecture & User Experience, Copywriting, and Brand, Campaign and Content Strategy. Its creative design services include Logo Design & Branding, Website and App Design, Print Design and Video Production. For web and mobile development, it offers Responsive Website Development (RWD), Mobile Development, Ecommerce Website Design and Content Management Systems. Finally, its online marketing solutions include Search Engine Optimization (SEO), Pay-Per-Click (PPC) Marketing, Email and Social Media Marketing, Conversion Rate Optimization, Display Advertising and Online Public Relations.
As one of the Best Web Design Firms for 2014, Blue Fountain has displayed exemplary work in this field, addressing a wide range of client types and website solutions that garner results. The number one spot went to The Creative Momentum and the number three spot went to CLiKZY Creative. Numbers four through 10 were Forix Web Design, Skookum, Kohactive, Southern Web Group, Cofa Media, Isadora Design and Dotcomweavers, respectively.
Blue Fountain Media brings a bottom-line approach to all the projects it takes on, bringing increased traffic to websites and enhancing brand loyalty. Its team is made up of digital strategists, developers, designers, marketers, communications specialists and project managers who all work together to produce results. As an award-winning agency, Blue Fountain focuses on its clients' business goals, providing real results that foster growth in the online space. This is achieved through custom-designed solutions that meet the specific needs of each client. The company has been recognized in The New York Times, Fox Business, Inc. and more for its contributions to web design. It's won several other awards for excellence in interface design, web development, ecommerce, branding and mobile development, bringing it to the forefront of the industry.