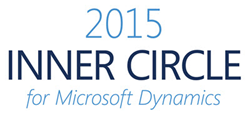 CARMEL, IN (PRWEB)
July 16, 2015
Blue Horseshoe, a global software firm specializing in supply chain and logistics solutions, has been selected to join the 2015 Microsoft Dynamics Inner Circle. This is an elite group of the most strategic Microsoft Dynamics partners from around the globe, with sales achievements that rank them in the highest echelon of the Microsoft Dynamics global network of partners. These partners are recognized for their exceptional overall company performance in delivering valuable solutions to Microsoft Dynamics customers.
The announcement was made official by Microsoft at the Worldwide Partner Conference taking place in Orlando, FL. Since its inception in 1993, the Inner Circle has rewarded its members for their continued sales success, strategic impact and achievements that support the Dynamics community.
"This recognition is the culmination of years of dedication within our company and our long-term belief in the Dynamics AX platform." said Chris Cason, President of Blue Horseshoe. "Earning this status means that the market recognizes our unrivaled combination of global Dynamics AX experience, deep industry knowledge, and our proven track record for customer satisfaction and support. We look forward to a thriving future with Microsoft and Dynamics AX."
The Microsoft Dynamics Inner Circle is considered the most prestigious honor for Microsoft Dynamics Partners. Blue Horseshoe is also a member of Microsoft Presidents Club and was named the Microsoft Distribution Partner of the Year in 2012, while also maintaining the Microsoft Gold ERP Competency.
Each year we recognize and honor Microsoft Dynamics partners from around the world for exemplary performance. These award-winning partners inspire us by the standards they set and the impact they have on the business. said Neil Holloway, Corporate Vice President Microsoft Business Solutions Sales & Partners, Microsoft is honored to recognize Blue Horseshoe for their achievements this past year and for their dedication and support of Microsoft Dynamics applications.
ABOUT MICROSOFT DYNAMICS

Microsoft Dynamics business solutions energize and empower customer engagement with real-time information and collaboration. As the world grows smaller and more complicated, technology plays an important role and enables individuals to drive their vision while also helping organizations to manage their end-to-end business processes. From customer engagement solutions powered by customer relationship management (CRM) software to enterprise resource planning (ERP), and from supply chain management to business intelligence and reporting, Microsoft Dynamics has a business solution that's just right for you. And when you combine Microsoft Dynamics with Office, Skype, and Yammer, you can connect instantly with your teams. With Microsoft Dynamics, you can add collaboration and productivity to any device, anywhere.
ABOUT BLUE HORSESHOE

Blue Horseshoe is a global solution services firm with its headquarters in Carmel, IN. It provides expert management and strategy consulting, system design, implementation, optimization, and distribution design services to Fortune 500 and mid-market businesses throughout the world. With a specific focus on Microsoft Dynamics AX ERP, Blue Horseshoe provides custom solutions tailored for food & beverage distribution, retail supply chain, CPG distribution and logistics and transportation. Blue Horseshoe continues to innovate and build on the success of the new warehousing and transportation modules released in AX 2012 R3, which were purchased by Microsoft from Blue Horseshoe. Additional offices are located in Denver, Columbus, Charlotte and our newest office in Amsterdam. http://www.bhsolutions.com
-30-