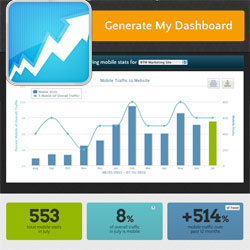 Boston, MA (PRWEB) August 27, 2012
Bluetrain Mobile debuted its latest marketing innovation, the Mobile Dashboard, today at HubSpots Inbound 2012 conference. This new, one-of-a-kind tool, the third installment in Bluetrain Mobiles free Mobile Marketing Toolkit, is a user-friendly mobile traffic analytics tool that helps professional marketers easily view and understand their mobile traffic data.
With the click of a button, users are able to connect to their website's Google Analytics account and generate a unique report that displays crucial mobile traffic information, including: a breakdown of monthly mobile visits, percent increase in mobile visits over the past 12 months, and top website pages viewed on mobile. All of this information is artfully displayed using a colorful, interactive 12-month graph, which can be exported as a vector image or downloaded as a PDF for easy sharing.
Once again, Bluetrain Mobile has provided a must-have tool for mobile marketers, says Jamie Turner, co-author of "Go Mobile" and founder of 60secondmarketer.com. The new Mobile Dashboard helps me analyze mobile traffic to the 60 Second Marketer website. Better still, it serves the data up to me in an easy-to-digest, graphical chart so I can get in, get out, and get back to work.
We hear from many professional marketers that mobile is a priority for them, but they feel overwhelmed and uncertain about how to take the first steps towards marketing on mobile, adds Steffan Berelowitz, Conductor & CEO of Bluetrain Mobile. Our goal is to demystify the world of mobile marketing with our suite of free tools, whether its by helping marketers measure their mobile traffic with Mobile Dashboard, assess their websites performance on smartphones with Mobile Grader, or explore the greater mobile marketing universe with the Mobile Marketing Map.
The Mobile Dashboard is located at http://dashboard.bluetrainmobile.com, and is a free tool that can be accessed at any time and does not require the user to download any software.
About Bluetrain Mobile
Create a fully customized mobile website for your business using Bluetrain Mobiles powerful, easy-to-use mobile marketing platform. Bluetrain Mobiles technology and services allow you to either a build a mobile website yourself, or work directly with Bluetrains mobile experts to effectively translate the look and feel of your brands desktop site into a tailored mobile experience for your customers. To learn more, visit http://www.bluetrainmobile.com.