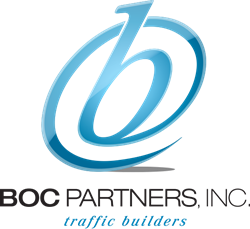 Westfield, NJ (PRWEB) December 31, 2013
BOC Partners, a Westfield, New Jersey advertising agency, announces its most successful year in the companys history. BOC Partners exceeded sales expectations and captured more market share this year than any other in its past, furthering its expansion into the automotive and retail sectors.
The agency, through successful new business acquisitions, starts the first quarter of 2014 with: 21 domestic stores, 31 import stores, 29 European stores, 22 luxury stores and eight exotic stores, including 38 different franchises, for 83 different automotive clients. BOC Partners has also added multiple clients in the healthcare, general contracting, industrial services and retail sales industries, expanding its reach into the non-automotive sector.
Britain OConnor, the agencys founder and CEO, says, We have always had a focus on automotive retail accounts. He went on to say, I cant think of any other industry where monthly advertising investments are as diverse or as focused on new and emerging technologies month after month, twelve months a year. More importantly, we are driven to document a return on investment within days of the expense being incurred.
Mr. O'Connor also stressed how much the agencys other business to consumer, business to business and professional services clients reap the benefits of the tried, tested and proven results generated by the agency for each and every client. BOC Partners recent acquisition of BullsEye Marketing will offer its clients an even larger suite of online marketing solutions entering 2014.
We generate traffic, be it on the showroom floor, phone calls, or to a websites, our clients rely on us to provide them with pre-qualified traffic to all three points of contact. BOC Partners solutions create synergy between offline and online marketing solutions, identifying pre-qualified customers in the most cost-efficient manner possible.
BOC Partners has served its clients for over 25 years, with an expertise in traditional and online marketing campaigns for automotive clients. The New Jersey advertising agency offers a portfolio of solutions including television, radio and outdoor advertising, search engine optimization, search engine marketing, social media, reputation management and email/database marketing.
BOC Partners strives to work with clients to utilize the solutions that best fit their needs and to personalize each clients campaign to maximize reach and return on investment.
BOC Partners is located at 1030 South Avenue West in Westfield, New Jersey. To learn more about the agency, call Britain OConnor at 908-232-2177, Ext. 14, or visit BOCPartners.com.