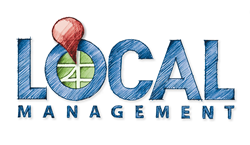 Boca Raton, FL (PRWEB) August 28, 2014
Local Management, a Boca Raton SEO company, has been recognized by the South Florida Business Journal as one of the fastest growing technology companies in the region. Co-founded by President Matt Kakuk and Vice President Todd Bolling, the company is staffed with highly-trained professionals who utilize the latest methods of SEO. The goal is to help potential customers find your business online. The recognition is their first from the South Florida Business Journal.
Search engine optimization is the new wave of helping businesses to attract more customers and maximize their profits. Boca Raton company Local Management utilizes SEO to help clients draw the most customers. Through the use of techniques, such as pay-per-click campaigns, mobile apps, Google 360 photography and website design, Local Management can dramatically increase the web visibility of its clients.
SEO has grown and become more sophisticated in the last five years. Some of the techniques which worked two years ago may not be relevant today. Because SEO is constantly evolving, its important to hire a company which keeps up with the latest trends and is able to adapt. The days of relying on the Yellow Pages to attract customers are now antiquated. Whether you own a roofing company, run a law firm or a plumbing service, your business depends on the Internet to attract the most clients.
Local Management is a company which truly lives up to its name. Conveniently located in Boca Raton, Local Management has successfully helped clients in Palm Beach, Broward and Miami-Dade Counties successfully increase their customer base and improve their bottom line.
About Local Management:
Local Management is a Boca Raton-based online marketing company which uses the latest techniques of SEO to help clients increase their website visibility. Founded in 2005, Local Management has quickly become an industry leader in the region. To learn more, call (561) 529-5703 or visit their SEO blog for more information.