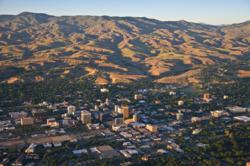 Boise, ID (PRWEB) September 07, 2012
Boise Idaho Real Estate market continues to gain momentum. Home Sales are strong and many homes are receiving multiple offers above the asking price. Building Permits show new homes being built is increasing and new builders are entering the market, even with the shortage of available lots in desirable communities.
With all the home buyer activity and opportunities, Boise Real Estate Brokerages are now fighting for market share. There are two ways to grow a real estate company find more home to list on the MLS or find more home buyers who need an agent. Some companies try to attract more agents who will naturally bring buyers and sellers while others try to increase their branding so buyers and sellers will call them first.
Trey Langford, a Boise real estate marketing specialist and founder of BuildIdaho.com, has noticed the online marketing of websites has increased dramatically over the summer. "There are more Google PPC ads then we have seen in several years now," Langford stated. "This is one area most companies can clearly see opportunity but not every company understands how to attract people to their site nor capture leads."
This 4th Quarter of 2012 looks to have continued strong home sales. Boise is receiving a lot of national recognition as a great place to live work and play which is drawing many out of state residents. There are many developers, Boise Real Estate Agents, Boise Home Builders and all the other service providers are growing their business to not only meet demand but steal market share.