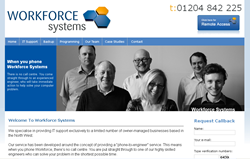 Bolton, Lancashire (PRWEB) March 31, 2014
The Bolton IT Company was established by Mike Willcox (Managing Director) in 1989.
Workforce Systems provide business IT support services to numerous clients located in the North West.
Most of the Bolton IT Support Companys clients dont employ full-time IT professionals and depend on Workforce Systems to provide support and help with computer networks, hardware, backup services and software development.
One of Workforces specialities is the development of software which works along side accounting software by Sage and the Bolton firm employ several expert Sage developers.
Mike was asked What do you offer which is different from other IT support businesses?
He answered, We know that every business is different and that each company has different requirements. We dont sell off-the-shelf support packages and we offer tailored and flexible contracts."
Mr Willcox added, Unlike many larger IT firms we dont have a call centre or expect customers to call premium phone lines. Neither do we employ call centre staff who often possess very little technical knowledge. If you call us you will speak directly with an engineer. This has meant that our clients have remained loyal because of our personal service and the trust developed over the years. We still have many clients which were with us at the beginning and it is very rare that a customer will go elsewhere.
The Business IT Company has recently launched a new website.
The site went live at the end of January and the original graphics were produced by local design company Vizcom Design.
Workforce chose a Manchester based company to build the site.
Vizcom were commissioned to optimise the website and to make sure it appeared on the first page of the search engine results pages for particular phrases.
Mike said, Weve used Vizcom for a long time for various design projects and have recommended them to many of our clients including CCS Tapes, Hilmar Tubes and Techtex. I like Dans design style so it was easy decision to make.
The website features a rotating banner which displays sales messages and highlights the companys services.
A call back form is in the header for visitors who are in a rush or viewing the site out of office hours.
As the company is service led and prides itself of the personal touch the banner features staff photographs and pictures of the team in action.
Mike explained, Our old site didnt look personal enough and after looking at our competition they seem to look very techy and unapproachable. We wanted to appear the exact opposite and be sure that anyone seeing the site for the first time wouldnt be afraid to pick up the phone and call us.
After keyword research was conducted by Vizcom and specific key phrases chosen Dan advised Workforce to choose a new domain name to help with search enquiries.
One phrase stood out and that was business IT support services which sums up exactly what Worforce do and has the added bonus of being a popular search term. I always have a little difficulty in persuading a client to use a domain name which doesnt mention their company and often use the example of B & Q who use the domain diy.com, explained Dan (Director at Vizcom).
He continued, I know from experience that IT is competitive when it comes to optimising websites so registering the domain name and re-directing the old links to the new site was vital. Weve been working really hard on this project and as expected it is proving tricky but Im confident we can get Workforce first page for most of the chosen terms.
Enquiries are beginning to trickle through and obviously I want more. Still the new site is performing much better than the old one and I expect Dan and his team will do the business, said Mike.
At the time of writing the website is in eight position for business IT support services and third for the phrase IT support Bolton.