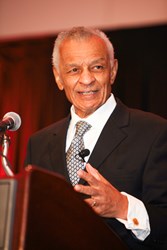 Nashville, TN (PRWEB) January 20, 2014
Today, Nashville law firm Bone McAllester Norton PLLC hosted their 13th annual Fellowship Breakfast honoring the life of Dr. Martin Luther King, Jr., at the Music City Center.
None of us would be sitting here today if it had not been for Martin Luther King, Reverend Dr. C.T. Vivian said in reference to the diverse crowd gathered at the Fellowship Breakfast.
Over 600 people were in attendance this morning to a standing-room only crowd. Among the attendees were Congressman Jim Cooper, Mayor Karl Dean, and dozens of elected officials.
Reverend Dr. C.T. Vivian was the featured guest speaker at the event. Rev. Dr. Vivian is a recent recipient of the Presidential Medal of Freedom and a Civil Rights leader. He is best known for his work with Dr. Martin Luther King, Jr. as National Director of Affiliates and strategist for every Southern Christian Leadership Conference organization. He is featured throughout documentaries like PBSs Eyes on the Prize (1987 and 2006) and the Tom Brokaw documentary, King (History Channel 2008).
Sharing with the crowd his experience of working with Martin Luther King Jr., Rev. Dr. Vivian described King as Americas greatest social strategist.
It wasnt what we talked about; its what we did, Rev. Dr. Vivian added.
Stacey Garrett, Chair of the Board of Directors of Bone McAllester Norton said, Were excited about how our Fellowship Breakfast has grown over the years reaching more and more people in our community. Its a great opportunity to share and reflect on the messages of Dr. King and to keep those messages going forward.
Members of the top-ranked KIPP Academy Nashville Choir and grassroots duo, Merging Blue, performed during the breakfast.
The KIPP Academy Nashville Performance Choir, founded and led by Marvis Moore, received a standing ovation for their stunning performance this morning.
KIPP Academy is a charter school in the heart of East Nashville. The KIPP Academy Nashville Performance Choir has garnered local, regional and national acclaim, regularly winning exemplary status at local and regional festivals and has twice been selected to highlight student performances at the annual KIPP School Summit Gala.
Merging Blue performed after Rev. Dr. Vivian. Vocal harmonies and soaring melodies distinguish Merging Blue as a powerful grassroots duo, with their stripped-down acoustic approach heavily influenced by the foundations of folk, blues, country and gospel. Individually they've performed, written or recorded with artists like U2, Taylor Swift, Wynonna and Faith Hill. For more, visit http://www.mergingblue.com.
For more information on Bone McAllester Nortons annual fellowship breakfast, visit http://www.bonelaw.com/community/dr-martin-luther-king-jr-fellowship-breakfast/.
ABOUT BONE MCALLESTER NORTON PLLC

Bone McAllester Norton PLLC is a full-service law firm with 37 attorneys and offices in Nashville and Sumner County, Tennessee. Our attorneys focus on 17 distinct practice areas, providing the wide range of legal services ordinarily required by established and growing businesses and entrepreneurs. Among our practices, we represent clients in business and capital formation, mergers and acquisitions, securities matters, commercial lending and creditors rights, commercial real estate and development, governmental regulatory matters, commercial litigation and dispute resolution, intellectual property strategy and enforcement, entertainment and environmental matters. Our client base reflects the firms deep understanding and coverage of todays leading industry and business segments. For more information, call 615-238-6300 or visit http://www.bonelaw.com.
Media Contacts:

Ann Dee McClane (615) 742-6889

amcclane(at)bonelaw(dot)com
Elizabeth Fielding (615) 321-3110

elizabeth(at)tsgnashville(dot)com