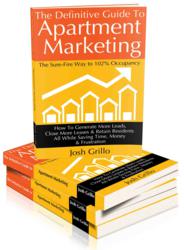 SAN DIEGO, California (PRWEB) May 30, 2013
The Definitive Guide to Apartment Marketing: How to Generate More Leads, Close More Leases & Retain Residents All While Saving Time, Money & Frustration, a new book by entrepreneur, multifamily marketing expert and RESIDENT 360 President Josh Grillo was released May 26 through Amazon.com.
Grillo incorporates his own successful blueprint for combining marketing and web design to meet the unique needs of the multifamily housing industry. Everything from strategies to combat negative reviews and reputation management, to utilizing existing residents for generating new leads and incorporating a great website and mobile device capabilities is addressed in The Definitive Guide to Apartment Marketing.
The in-depth, highly anticipated guide to apartment marketing offers multifamily companies an unprecedented amount of information and helpful details for increasing leads and leases, and retaining more residents in any apartment community. Grillos book is a must-have reference guide for multifamily companies looking to garner maximum benefits from their marketing campaigns. Included in The Definitive Guide to Apartment Marketing is detailed advice and information covering a multitude of concerns common to multifamily companies, including:


How to generate more leads from marketing.
How to drive more traffic to an apartment website.
Tips for getting better results with Craigslist.
How to respond to negative online reviews.
Tips for creating a Facebook posting strategy.
How and when to ask for resident testimonials.
How to schedule more community tours.
How to close more leases.
Key components for a successful apartment website.
How to stay in front of website visitors after they leave the website.
Seven key points that make up an effective apartment marketing strategy.
The most profitable marketing tools for generating the largest number of leads and leases.
How to focus on traffic, conversion and service to increase occupancy and NOI.
Multifamily companies need consistent, high quality leads delivered through a diversified marketing campaign, Grillo says. My book offers detailed recommendations for achieving that level of marketing strategy.
For more information, go to the The Definitive Guide to Apartment Marketing listing on Amazon.com, email Josh(at)resident360(dot)com, or call 855.360.9327.
About The Author:
As President of Resident360, a multifamily Internet marketing company providing fully responsive apartment websites and lead generation services, Josh Grillo is one of the foremost authorities on multifamily Internet marketing in the country.
An entrepreneur, author, speaker and consultant, Grillo first began shaping Internet marketing strategies back in 2000, creating website products for ABC, NBC, CBS and FOX local TV stations. By 2005, he had created a new trend in marketing that leveraged local TV station brands to capture new advertisers. Combined with TV commercials, websites, vanity phone numbers and Internet marketing, this new trend generated more than $ 50 million in revenue for clients in less than 24 months. After television advertisers cut spending in 2008, Grillo took his business off air to work directly with real estate clients, and later, multifamily companies on Internet marketing and lead generation strategies.
With 13 years experience bringing multi-media television and Internet campaigns to the multifamily housing industry, Grillo has perfected a blend of Internet marketing and direct response triggers that give multifamily clients proven, outstanding results.
###