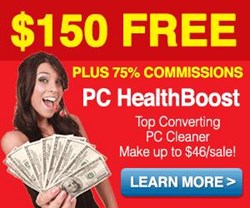 Boston, MA (PRWEB) October 15, 2013
Boost Software Director of Public Relations Erin Walsh announced a new offering to affiliates for affiliates who sell company's PC HealthBoost software Wednesday on the Boost Affiliates blog. Affiliates can now avail themselves of professionally produced video and infographic content to aid in their marketing efforts.
Walsh has commissioned the video and image content over the past several months on behalf of Boost Software. While some of the media has appeared on the PC Health Boost blog, Walsh sees no problem if affiliates use it in their own efforts.
"We don't see any point in hiding this type of content from our affiliates when we KNOW it really works," says Walsh. "Readers appreciate the kind of information the infographics and videos give, and they appreciate the easy delivery. And these types of files also help with search engine optimization when all of them are present on a page, properly formatted and hosted [as opposed to hotlinked or embedded].
Walsh is no stranger to search engine optimization: she helped start a Las Vegas SEO firm, later leaving to pursue opportunities with Boost Software.
But the infographics and videos weren't created with SEO as the number one concern. Instead, they give readers information on how to deal with errors, tips on how their computers can remain error free, troubleshooting advice for PC HealthBoost installation/uninstallation, and troubleshooting advice for common Windows errors.
One infographic, for example, gives advice on how customers can clean up both the hardware and hard drives on their computers without the aid of software. Topics for other images include fixing dll errors, dealing with screen freeze, how to handle a slow computer, and the ever-dreaded Blue Screen of Death.
Video topics include how to deal with a lost PC Health Boost license key, how to install or uninstall the software, and how to deal with Windows errors. There are also several professionally made promotional videos for the software.
These videos and infographics are for all our affiliateseven our aspiring affiliates who are working on their first sale, says Walsh. The Boost Affiliates member section is open to all of our affiliates, and it's free to join.
Boost Software is a Microsoft Partner based out of Boston, MA. The company was formed by super-affiliates Peter Dunbar and Amit Mehta. The two software affiliates became frustrated with the lack of support available to the PC optimization software they were selling, and decided to create their own product. PC HealthBoost and its 24/7 phone and email support is a direct result of that decision. Interested parties can find out more at http://boostaffiliates.com.