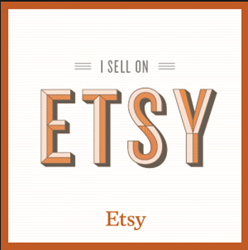 Austin, TX (PRWEB) September 26, 2013
Etsy is an online retail marketplace designed as a space for artisans and craft enthusiasts to buy and sell vintage and handmade items that has only gained momentum since its launch in 2005. According to their August 2012 "weather report" there were 5,483,399 items sold on Etsy, along with 2,804,300 new items listed, 1,065,767 new members who joined, and 1.8 billion page views recorded–all in the month of August.
For small business boutique owners, Etsy represents another opportunity for added revenue, bridging the gap between brick and mortar location and online auction.
How to Join
To create an Etsy account, one simply needs to start by visiting Etsy.com and register an account. Etsy will automatically recognize the account as a buyer, and to get started selling one just needs to change their options to sell and officially "open up shop." After one is officially registered as a seller, the next step is to customize their page by choosing a shop name, aesthetic design, and product description. One should keep in mind what currency they want to accept as well, because Etsy offers multiple payment options, from US dollars to the Euro to PayPal transactions. (Click here for more detailed steps for setting up.)
Campaigning with Etsy
One can't expect their Etsy shop to just get found. It's necessary to campaign and use outlets such as social media for promotion.
As is generally the case with online ventures, small business owners' best chance of quick Etsy growth is to streamline Etsy marketing with their other promotional campaigns. Adding an Etsy call to action within one's social media, ads in print publications, and email marketing mix makes it possible for one to add a new dimension to their content marketing without having to change one's structural dynamics.
Tips for Success:
1. Take Great Photos
In an online shop scenario when visitors aren't able to touch, hold and fondle a product, they have to rely on photos, and good, detailed pictures are the best way for the customer to ensure that a product is something they need–rather than something they might want. Below are a few things to consider for photos:
-Quality: Like it or not, the presentation of an item is just as important as the item itself, and a high-quality photo is much more likely to be taken seriously and reflect the quality of the product. Meanwhile, a blurry iPhone photo–even of an amazing product–is less appealing to the viewer and is likely to affect their purchasing decision in a negative manner.
-Background: One should think about what image they want to convey of their business when determining the background for their photos. For a rustic vibe, a wooden background would work, while stark white is always a clean option. On the other hand, taking a photo of an amazing hand-made dress with a messy bedroom in the background isn't going to be appealing to anyone–no matter the quality of the product.
-Angles and Scale: Again, when customers aren't able to pick up and examine a product, it's important to do that for them through photos. One should make sure they include photos that portray their product from every different angle and size. Similarly, showing some items in a matter that scales them can also be helpful. (For example, a photo showing a pendant next to a quarter will give the viewer a sense of its size much better than simply a numbered measurement of its dimensions–which, by the way, is still important.)
2. Write Detailed Descriptions
The more explicit one's product descriptions are, the more potential customers will know about the products and all of their awesome aspects. From measurements to materials to the hours one spends hand-making the items, the more informed the page's visitors are, the more likely they are to make an immediate decision if the product definitely fits their needs. This is much more preferable than a potential customer who slips away because they aren't sure about the details of a product and don't want to invest the time in finding out.
3. Pay Attention to SEO
Etsy has tools to help vendors determine where, exactly, their web traffic is coming from–specifically what keywords and terms are drawing others to their site. By simply altering the language one uses in descriptions, etc. to correspond with what people are searching for, it's possible to see near-immediate results in the realm of search results. See this case study as an example of how simply adjusting one's SEO can help views and sales increase dramatically.
Applying Etsy to the College Market
Though not all products on Etsy are marketable towards the college demographic (like, say, embroidered oven mitts), many college students are very versed on the Etsy buying process and will go there when searching for something specific–especially when it's something to be personalized.
One excellent demographic to go after when promoting personalized products–everything from jewelry to embroidery–is the Greek market. Monograms are very popular among sorority girls, and Etsy is where, in many cases, they're likely to search for an item of this nature, be it for themselves or for gifts.
On another note, one can consider promoting their personal graphic design services to help students in need of this service who don't have the skills or resources to do it themselves. Whether it's a unique graduation announcement or, for the set that's getting married right out of college, a save-the-date or wedding invitation, they're likely to peruse Etsy to find a skilled someone to help them fill these needs.
One excellent example to consider of an Etsy vendor marketing to the college demo is Debora Luz Licon of The Resume Shop, who offers customized resumes that are ideal for seniors who will soon be graduating and are in need of a resume that stands out in the stack.
The bottom line is that when one considers the possibilities of Etsy–combined with the needs of college students–the potential for profit is limited only by one's creativity.
Study Breaks College Media provides a one-stop solution for small businesses, providing them with big marketing strategies and delivering college students.
Study Breaks magazine is an award-winning line of monthly entertainment magazines for college students with a mission can best be explained through its slogan: We are college life. Published by Shweiki Media Printing Company, it is distributed in five Texas cities (Austin, Houston, San Antonio, San Marcos and Lubbock). (Studybreaks.com)