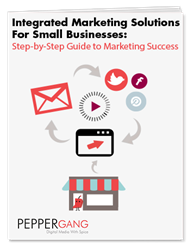 Boston, MA (PRWEB) October 21, 2014
Boston digital marketing agency, Pepper Gang, is pleased to announce their exclusive integrated marketing white paper for small businesses. The white paper is an excellent resource to be leveraged by smaller businesses looking to learn how to plan, implement and measure an integrated strategy.
The guide: Integrated Marketing Solutions For Small Businesses: Step-by-Step Guide to Marketing Success seeks to provide both small and locally targeted businesses with integrated marketing strategies that will help them to adapt to the new and often complex behaviors of the modern consumer.
The information, exclusively aligned for small business, includes: