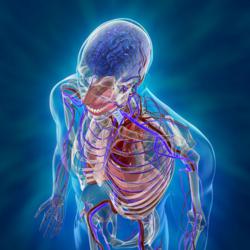 Vancouver, BC (PRWEB) June 27, 2013
Heart disease is a major cause of death and hospitalization in several European countries, as observed in a 2012 OECD (Organisation for Economic Co-Operation and Development) study. While previous methods for treating obstructed coronary arteries involved open-chest surgery, this is no longer the case today as coronary angioplasty techniques have transformed the treatment of ischemic heart disease. Although the boom years of angioplasty procedures may have subsided, they still promise to maintain their penetration rates as a large middle-aged cohort continues to age and enter a high risk category for coronary disease and myocardial infarction.
According to iData Research, the leading authority in global market research, the European interventional cardiology market is valued at almost $ 2 billion. While the greatest share of the total market belongs to coronary stents, used for treatment of coronary heart disease, it is the coronary atherectomy device and optical coherence tomography (OCT) catheter markets that represent the greatest growth, explains Dr. Kamran Zamanian, CEO of iData Research. An atherectomy is a procedure by which plaque is removed from the arteries and normal blood flow is established. Atherectomy devices are used when there is calcification in the arteries and the blood flow cannot be restored through the use of grafts. Germany represented the largest market for these devices in Europe in 2012, nearly twice the size of the next largest market in terms of unit sales. The same is true for the OCT catheter market. While OCT has been used for a number of years in other medical fields, such as in ophthalmology, it has only been applied to cardiology since 2006 in Japan and Europe.
Regarding major competitors, Boston Scientific led the overall European interventional cardiology market in 2012, with Abbott, Medtronic, and Cordis following closely. The company was at the forefront of the drug-eluting stent, coronary embolic protection device, PTCA balloon catheter, IVUS catheter, and atherectomy device markets, where they secured the greatest market share. The only other competitor in the atherectomy device market was Spectranetics, but the two might soon be sharing space with other competitors involved in peripheral atherectomy such as Cardiovascular Systems Inc. (CSI), Covidien, Pathway Medical Technologies and Minnow Medical. The OCT catheter market also presented limited competition as St. Jude Medical accounted for 100% of the market in 2012 through sales of their C7-XR OCT intravascular imaging system and C7 Dragonfly imaging catheter, which were the only OCT devices approved for sale in Europe in 2012. Other companies that are looking to enter the coronary OCT systems market are Volcano Therapeutics, Terumo, Carl Zeiss Meditec, and Heidelberg Engineering.
A synopsis for each market intelligence publication in the global series on the Markets for Interventional Cardiology covering the U.S., Japan, Brazil, as well as 15 European countries is available here. The full series provides a comprehensive analysis including procedure numbers, units sold, market value, forecasts, as well as a detailed competitive market shares and analysis of major players success strategies in each market and segment. The reports also cover markets for: coronary stents, percutaneous transluminal coronary angioplasty balloon catheters, interventional coronary guidewires, coronary introducer sheaths, coronary embolic protection devices, diagnostic coronary catheters, fractional flow reserve guidewires, coronary vascular closure devices, intravascular ultrasound catheters, and vulnerable plaque devices.
About iData Research
iData Research is an international market research and consulting group focused on providing market intelligence for medical device and pharmaceutical companies. iData covers research in areas such as: vascular access, interventional cardiology, peripheral vascular access, infusion therapy, cardiac rhythm management, cardiac surgery, patient monitoring, and diabetes monitoring, treatment, and drug delivery.