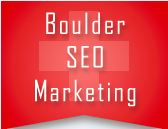 Superior, CO (PRWEB) March 31, 2014
Boulder SEO Marketing, a digital marketing agency specializing in SEO training and consulting, has teamed up with BrightInfo, a web content recommendation engine, to present an April 24, 2014 webinar on how to increase organic search traffic and how to convert website visitors to leads. Additional information and registration are available at: http://www.boulderseomarketing.com/webinar-increase-organic-search-traffic-and-convert-website-visitors-to-leads
Chris Raulf, founder and search engine optimization training expert at Boulder SEO Marketing notes, SEO and a clearly defined content marketing strategy are some of the most effective ways to drive qualified visitors to a website. He adds: Our search engine optimization methodology is based on five core pillars and has proven to increase organic search traffic between 50-200% within 4-6 months but it is also a fact that an increase in website traffic is only half the battle; a website needs to be able to convert site visitors to leads.
According to research, online visitors attention span has been declining in recent years and website bounce rates have increased by an alarming rate. Boaz Grinvald, founder and CEO at BrightInfo, notes, If you want to engage with your website visitors and keep them on your site, you need to offer them the right content very quickly. BrightInfo Cloud solution automatically and immediately increases online conversion by up to 80% and is up and running in minutes.
In this 45-minute webinar, Grinvald and Raulf will present how to improve organic search traffic from Google and other search engines while reducing bounce rates from landing pages, engaging with departing visitors at the door, and how to convert website visitors to leads.
About BrightInfo (http://www.brightinfo.com)

BrightInfo offers a powerful web content recommendation engine that turns anonymous visitors into known marketing leads, with virtually no manual effort. Leveraging existing online marketing materials, the engine dynamically delivers relevant content to each individual at the right time, based on the preferences and behaviors of individual website visitors. BrightInfos recommendation engine has been proven to help marketers increase leads by an average of 39% while also reducing the acquisition cost per lead. With an optimized solution for corporate websites, blogs and landing pages the recommendations are made at all key entry points into the site.
About Boulder SEO Marketing (http://www.boulderseomarketing.com)

Boulder SEO Marketing assists businesses around the globe with all of their search engine optimization (SEO), search engine marketing (SEM), social media and content marketing training and consulting needs. Our goal is to empower small and medium sized businesses to be able to plan and execute a scaled, successful, SEO and social media campaign that will increase a companys visibility in search engine listings and help drive qualified leads to their website.