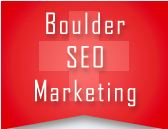 Superior, CO (PRWEB) June 30, 2014
Boulder SEO Marketing, a Colorado-based SEO and digital marketing training and consulting company, announced today that the it has teamed up with Carbon8, a nationally recognized digital marketing agency, focusing on web design, web development, apps, search engine marketing, social media marketing, branding and video production. The companies will focus on providing SEO website audits to companies around the globe.
Were excited to bring together two creative companies to help fulfill an increased demand for SEO website audits, notes Chris Raulf, Founder of Boulder SEO Marketing. He continues, During Boulder SEO Marketings transition to increase our online marketing training services, we are excited to continue to offer a broad range of digital marketing solutions as part of our partnership with Carbon8.
Mark Mitton, President of Carbon8, adds, The findings and recommendations as part of our search engine optimization audits are usually real eye-openers for our clients. Many websites we audit frequently lack the fundamental SEO components. The recommended actions allow companies to improve their keyword rankings and to increase organic search traffic from Google and other search engines.
Boulder SEO Marketing also announces that it will publish its search engine optimization and online marketing training schedule in August. For additional information, please visit: http://www.boulderseomarketing.com/seo-and-social-media-classes.
About Carbon8 (http://www.carbon8.com)

Carbon8 is an innovative digital marketing agency located in Denver, Colorado. With Carbon8, companies will have an interactive marketing experience that will capture attention and drive sales. While others focus solely on creative, we understand that it is our deeply talented programming team that frees our creativity. Together, we imagine it, build it and track it.
Carbon8 has grown quickly since its founding in 2009. Clients range from Fortune 500 companies to startups in the United States and Europe. Digital marketing services include web design, web development, iPad and iPhone marketing and sales apps, search engine marketing, social media marketing, branding and video production.
About Boulder SEO Marketing (http://www.boulderseomarketing.com)

Boulder SEO Marketing assists businesses around the globe with all of their search engine optimization (SEO), search engine marketing (SEM), social media and content marketing training and consulting needs. Our goal is to empower small and medium sized businesses to be able to plan and execute a scaled, successful, online marketing campaign that will increase a companys visibility in search engine listings, increase organic search traffic to a website and convert site visitors to leads.