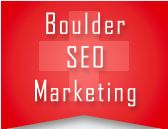 Superior, CO (PRWEB) September 30, 2014
Boulder SEO Marketing, a Colorado-based SEO and social media training and consulting agency, announced today that it has teamed up with Carbon8, a nationally recognized digital marketing agency, to present two half-day SEO and digital marketing workshops entitled Search Engine Optimization 201 Workshop Power Boost Your Visibility on Google. The workshops will be held on October 9 and 21, 2014 at the Carbon8 offices in Denver. Registration and additional information are available at: http://www.boulderseomarketing.com/seo-and-social-media-classes
One of the most effective and least expensive marketing programs nowadays, search engine optimization is still a mystery to many companies. Chris Raulf, Founder & President of Boulder SEO Marketing notes, Implementing and maintaining a successful SEO strategy is not rocket science; yet, most businesses simply dont have the knowledge or resources to make their website more visible on Google and other search engines. He adds: These hands-on half-day SEO workshops are a great way for us to demystify search engine optimization and to encourage businesses to improve their online marketing efforts.
The workshops target anyone involved and eager to learn how to increase their websites visibility in search engines and prior SEO knowledge is not required to attend the classes. The days of achieving page number 1 rankings on Google through deploying black hat SEO strategies are gone, notes Josh Culver, head of the Search Marketing Department for Carbon8. He concludes, Google continues to improve their algorithm on a daily basis in order to serve its users the most relevant search results and we are excited to help workshops attendees understand SEO best practices.
Additional information about upcoming SEO and digital marketing workshops are available by visiting: http://www.boulderseomarketing.com/seo-and-social-media-classes.
About Carbon8 (http://www.carbon8.com)

Carbon8 is an innovative digital marketing agency located in Denver, Colorado. With Carbon8, companies will have an interactive marketing experience that will capture attention and drive sales. While others focus solely on creative, we understand that it is our deeply talented programming team that frees our creativity. Together, we imagine it, build it and track it.

Carbon8 has grown quickly since its founding in 2009. Clients range from Fortune 500 companies to startups in the United States and Europe. Digital marketing services include web design, web development, iPad and iPhone marketing and sales apps, search engine marketing, social media marketing, branding and video production.
About Boulder SEO Marketing (http://www.boulderseomarketing.com)

Boulder SEO Marketing assists businesses around the globe with all of their search engine optimization (SEO), search engine marketing (SEM), social media and content marketing training and consulting needs. Our goal is to empower small and medium sized businesses to be able to plan and execute a scaled, successful, online marketing campaign that will increase a companys visibility in search engine listings, increase organic search traffic to a website and convert site visitors to leads.