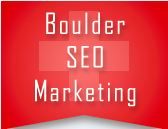 Superior, CO (PRWEB) February 04, 2015
Boulder SEO Marketing, a digital marketing agency providing SEO site audits, search engine optimization, social media and content marketing training and consulting solutions to companies worldwide, announced today its latest webinar hosted with Carbon8. The complimentary online class entitled SEO Audit: Benchmark, Measure, Audit and Prove will be held on February 18th from 12:00pm – 1:00pm MST. Additional information and registration is available at: http://www.boulderseomarketing.com/seo-and-social-media-classes/upcoming-events/#150218-SEO-Audit-Webinar
The lack of a simple, yet structured way to report on the effectiveness of a companys online marketing efforts often leads to shutting down activities that are actually working and supporting the bottom line, notes Chris Raulf, President and Founder of Boulder SEO Marketing. He continues, The webinar aims to help business owners and digital marketing professionals understand how to improve their websites SEO effectiveness so that they can increase their online lead generation.
In the 60-minute webinar, attendees will learn:

What an SEO site audit is and why it needs to be perform on a regular basis
How to benchmark and setting up achievable and measurable goals
Free and paid tools to measure results
Case studies and best practices
Boulder SEO Marketing and Carbon8 also announce that they will host a 3-hour SEO 201 Web Seminar on February 26, 2015 from 10:30am – 1:30pm MST. For additional information and to register, please visit: http://www.boulderseomarketing.com/seo-and-social-media-classes/upcoming-events/#150226-SEO-201
About Carbon8 (http://www.carbon8.com)

Carbon8 is an innovative digital marketing agency located in Denver, Colorado. With Carbon8, companies will have an interactive marketing experience that will capture attention and drive sales. While others focus solely on creative, we understand that it is our deeply talented programming team that frees our creativity. Together, we imagine it, build it and track it.
Carbon8 has grown quickly since its founding in 2009. Clients range from Fortune 500 companies to startups in the United States and Europe. Digital marketing services include web design, web development, iPad and iPhone marketing and sales apps, search engine marketing, social media marketing, branding and video production.
About Boulder SEO Marketing (http://www.boulderseomarketing.com)

Boulder SEO Marketing, assists businesses worldwide with all of their search engine optimization, (SEO), search engine marketing (SEM), social media, content marketing and SEO training and website audit needs. Our team of experts help small and medium sized businesses to be able to plan and execute a scaled, successful internet marketing campaign that will improve a companys visibility in search engine listings and help increase traffic from organic searches to their website.