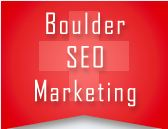 Superior, CO (PRWEB) December 29, 2014
Colorado-based Boulder SEO Marketing, an online marketing agency providing search engine optimization, social media and content marketing consulting and training, announced today that it has teamed up with NexLevel Sales to present a complimentary webinar entitled Accelerate Your Digital Marketing Strategy in 2015 on Wednesday, January 21, 2015 at 11:00 am PST. Additional information and registration are available at: http://www.boulderseomarketing.com/seo-and-social-media-classes
The 45-minute webinar features Julio Viskovich, a Forbes Top 30 Social Selling Thought Leader, and Chris Raulf, an Online Marketing Institute Top 40 Digital Strategist. Viskovich and Raulf will discuss many tips and best practices that will accelerate any companys digital footprint in 2015, including:


An introduction to the five fundamental pillars of search engine optimization
Why social media is a crucial component for increasing organic search traffic
How to plan an effective social media strategy
How to minimize risk with a social media policy and triage process
And how to effectively empower your team to use social media
Julio Viskovich said, A carefully planned social media strategy and tactical approach is needed to avoid disasters and optimize for success. He adds: This online session is designed to help small and large organizations embrace the collaborative economy and maximize results with a carefully planned online marketing strategy.
One of the most affordable and effective ways to engage with new and existing customers, digital marketing allows any size company to build and foster a brand across multiple channels, notes Chris Raulf. He concludes, Despite the remarkable array of digital marketing technologies available to any company nowadays, many businesses still struggle to implement a customer-centric and digitally focused strategy that yields the desired results.
This webinar targets anyone interested in learning insights on why social media isn't something organizations should jump in to and explains in detail how to create a winning social media strategy.
About Boulder SEO Marketing (http://www.boulderseomarketing.com/)

Boulder SEO Marketing, assists businesses worldwide with all of their search engine optimization, (SEO), search engine marketing (SEM), social media, content marketing and SEO training and website audit needs. Our team of experts help small and medium sized businesses to be able to plan and execute a scaled, successful internet marketing campaign that will improve a companys visibility in search engine listings and help increase traffic from organic searches to their website.