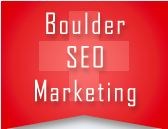 Superior, CO (PRWEB) November 15, 2013
Boulder SEO Marketing (http://www.boulderseomarketing.com), a leader among SEO agencies in the Boulder and Denver area, today announced that it has expanded its network of strategic partners in order to offer full-service pay-per-click services to its customers.
Search engine marketing, or otherwise known as pay-per-click (PPC) advertising, is an internet advertising model used to direct traffic to websites in which advertisers pay the publisher when the ad is clicked. When planning an online marketing campaign, its important to set long and short term goals. PPC allows companies to fill the gap while building its organic search campaign, notes Chris Raulf, President & Founder of Boulder SEO Marketing. He continues, Both PPC and organic search engine optimization revolve around keywords. PPC can be a great way to complement an organic search campaign because you can use it to quickly determine which keywords drive traffic and conversions, and then build those keywords into your organic SEO efforts.
Consumers trust their preferred search engine, such as Google, Bing or Yahoo!, to provide them with the most applicable search result, which is why organic search should always be part of a companys overall online marketing strategy. Although conversion rates are naturally lower for PPC campaigns compared to organic SEO, PPC may have a higher conversion rate for businesses who have not yet achieve high organic listings for their target SEO keywords.
Through its in-house team of search engine marketing experts and its network of partner companies, Boulder SEO Marketing now offers pay-per-click solutions for all of the major search engines as well as social media networks such as Facebook, LinkedIn and Twitter. For additional information, please visit: http://www.boulderseomarketing.com/services/search-engine-marketing-social-media-advertising.
About Boulder SEO Marketing (http://www.boulderseomarketing.com)

Boulder SEO Marketing assists Boulder and Denver area businesses, as well as national and international companies, with all of their search engine optimization (SEO), search engine marketing (SEM), social media, content marketing and conventional marketing consulting needs. Our goal is to empower small and medium sized businesses to be able to plan and execute a scaled, successful, internet campaign that will increase a companys visibility in search engine listings and help drive qualified leads to their website.
For additional information, please email us at info(at)boulderseomarketing(dot)com