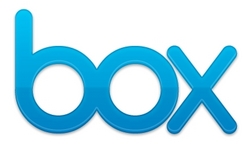 Palo Alto, CA (PRWEB) October 14, 2010
Cloud content management provider Box.net today announced that it achieved record revenue for Q3 2010, driven by a significant spike in enterprise deployments. The number of new deals with larger enterprises exceeding $ 5K increased more than 500% over Q3 2009, as ABC News, Hawaiin Airlines and other large organizations adopted Box to manage, share and collaborate on all their content online. Drivers for adoption included major mobile developments for iPad, iPhone and Android, as well as strategic partnerships with Hewlett-Packard, Lexmark, DocuSign and others.
"We had a breakout quarter for adoption of Box in the enterprise, and this trend will continue as larger organizations turn to cloud solutions for the scalability, flexibility and real-time power that today's businesses demand but on-premise software cannot provide," said Aaron Levie, co-founder and CEO of Box.net. "We also saw our mobile offerings for iPad, iPhone and Android drive significant deals with IT departments looking to support a mulitplatform mobile strategy and enable productivity on-the-go. Mobile extensibility is becoming an increasingly key differentiator for business software, and our mobile platform will continue to provide a major advantage over traditional enterprise content management solutions that don't extend beyond the desktop."
Customers and Revenue Growth
Organizations such as Ruby Restaurant Group and IDG joined the more than 4 million users and 60,000 businesses using Box to manage and share their content in the cloud. Business revenue increased 3X over Q3 2009, driven by a 500% increase in the number of enterprise deals as larger organizations adopted Box to solve their information and collaboration challenges. Other significant deployments in Q3 included Taylor Made Golf, University of Michigan, Santa Clara University, Lifetouch, Skype, Yammer and Pandora.
Mobile and Partner Strategy
Box made significant enhancements to the extensibility of its cloud content management service in Q3 through strategic partnerships and major updates and additions to its mobile platform. The Box apps for iPhone and iPad have continued to see traction as the easiest way to share and access business content on-the-go, with more than 200,000 app downloads to date and nearly 1 million content previews in Q3 alone. Thanks to Q3 updates for both apps, users now benefit from the ability to save files for offline access and faster previewing with file caching. Box also made a major addition to its mobile platform with a customized Box app for Android, which supports all Android devices running on the Android OS 2.0 and higher. Integrations with Hewlett-Packard and Lexmark printers and scanners have helped bridge the gap between paper and digital content, building an on-ramp to the cloud with scan-to-Box functionality.
Key Hires and Company Growth
Former board member and ex-Intuit executive Dan Levin joined Box full-time as the company's chief operating officer to drive operational excellence and enhance technical scale as Box continues to gain traction in the enterprise. Box also secured other senior hires from Google, Oracle and Intuit to expand the Box team to a total of 112 employees, a 70% increase since the beginning of 2010.
Industry Recognition
Thanks to Box's rapid growth, the company was ranked No. 152 overall and No. 14 in the Software industry on Inc. Magazine's 29th annual Inc. 500, an exclusive ranking of the nation's fastest-growing private companies, and subsequently selected as one of the top five hottest Inc. 500 companies. Box also received several other industry accolades in Q3, including selection as one of KMWorld's Trend-Setting Products of 2010 and PC Magazine's Top 100 Websites of 2010, as well as the winner of ECM Connection's 2010 Ace Awards for ECM Trends.
For more information, please visit http://www.box.net.
About Box.net
Founded in 2005, Box provides cloud content management for more than 4 million users and companies ranging from small businesses to Fortune 500 companies. Box's dynamic, flexible content management and collaboration solution empowers users to access and share content online, and gives IT professionals unprecedented visibility into how content moves within their organizations and beyond. Content on Box can be shared internally and externally, accessed through iPad, iPhone and Android applications, and extended to OpenBox partner applications such as Google Apps, NetSuite and Salesforce. Headquartered in Palo Alto, CA, Box is a privately held company and is backed by venture capital firms Draper Fisher Jurvetson, ScaleVP and U.S. Venture Partners.
###