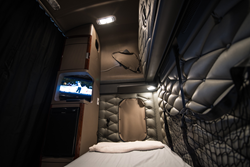 Salt Lake City, UT (PRWEB) December 17, 2014
EpicVue, providers of premium in cab satellite TV packaged exclusively for the trucking industry, today announced that based on the significantly increased driver retention results of earlier installed EpicVue satellite TV service for fleets, Boyd Bros. Transportation Inc. will continue equipping additional vehicles with the premium entertainment service.
At Boyd Bros., we take pride in offering the best benefits to drivers, including the highest flatbed driver pay in the industry, retirement savings plans, schedules that bring drivers home weekly, late model trucks, and the latest communications technology, said James Watkins, manager of mobile communications at Boyd Bros. With EpicVue in a sample group of 150 vehicles, driver retention more than doubled over non-equipped vehicles. Our goal is not just to attract drivers but also to keep them, and EpicVue is the first company we found that provides a home away from home feeling for drivers. They also met our needs by bundling their satellite TV service and providing it without any up front costs.
The EpicVue service for fleets brings more than 100 channels of DIRECTV programming including premium channels such as HBO/Cinemax, SHOWTIME and the NFL Sunday Ticket into the comfort of a drivers sleeper for a monthly subscription fee and without any upfront hardware costs. Previously considered a cost prohibitive solution for commercial truck drivers, EpicVue has packaged satellite TV for fleets with 20 or more vehicles for $ 49 per month under a five-year contract or $ 59 monthly for a three-year contract.
Included in the EpicVue package is a 24 flat screen TV, a DVR, an off-air antenna used to pick up local channels and an EpicVue designed and manufactured ruggedized satellite antenna for rear or top of cab.
We understand the severe and growing problem trucking companies are having with driver turnover, said Lance Platt, CEO of EpicVue. We also believe that families and friends bond over the shared experience of TV even if they aren't together when they are watching the latest episode of their favorite show or the big game. If watching TV can help drivers better handle their time on the road away from family then we are happy to be one small piece of the driver retention puzzle.
About Boyd Bros.

Headquartered in Clayton, Alabama, Boyd Bros. Transportation Inc. is a flatbed truckload carrier that operates throughout the eastern two-thirds of the United States, hauling primarily steel products and building materials for high-volume, time-sensitive shippers.
About EpicVue

In 2013, EpicVue was formed by individuals with years of combined experience in the trucking and satellite television industries. With the understanding that television often fulfills the human need for connection and helps to counteract loneliness on the road or feelings of isolation, EpicVue designed a TV viewing package specifically for commercial fleets. Offering more than 100 channels of programming, including HBO, Showtime and NFL Sunday Ticket, the EpicVue satellite TV package is available for a monthly subscription fee and no upfront costs. For more information, visit http://www.epicvue.com.
Media Contact:

Susan Fall

LaunchIt Public Relations

858-490-1050

susan(at)launchitpr(dot)com