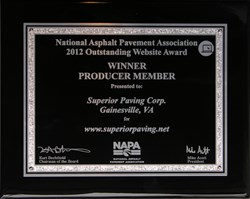 Warrenton, VA (PRWEB) February 06, 2014
The National Asphalt Pavement Association (NAPA) announced that Superior Paving Corp. of Gainesville, VA, is the winner in the Producer category of the 2012 Outstanding Website Award. The company received its award at a ceremony during the associations Midyear Meeting in Boston.
The award recognizes website designs that promote the use of asphalt and the asphalt pavement industry.
The Superior Paving website underwent a revamp in September 2012 to more effectively share with its customers and industry partners the companys culture and mission of building high quality asphalt roads.
"We wanted to create a tool that our FOB (Freight on Board) customers would be willing and able to use," said Jim Mitchell, Superior Paving Corp. President. "And we wanted to promote the asphalt industry as a whole. We had high expectations when we started this project. Brand Design did a fantastic job helping us meet those expectations."
"We are very proud of this award for several reasons," said John Brand, Brand Design, Inc. President. "Superior Paving had two key requests, the first was to ensure that their Superior Values and Culture was well documented within the website and the other was to promote the asphalt industry. I am delighted that we were chosen for the project and able to accommodate Superior Paving on both accords."
Brand Design is a full service, advertising agency serving businesses throughout the Washington Metro Area. In business for more than 19 years, Brand Design is highly regarded for their expertise in traditional marketing, branding, print, radio and TV, and now the web.
"We have worked very hard to apply our skills and knowledge for web design, SEO, web writing and video to help our customers sell and increase their online presence. This award is the culmination of these efforts. We have a talented team with a solid background in web design and web processes. The credit really goes to all of them," Brand said. "Superior Paving gave us the flexibility to be totally creative. So we incorporated video throughout the site to enhance the user experience. Its unlike any other website we have built to date."
For more information about web design, branding and advertising for your company, please contact Brand Design today.
Brand Design, Inc.

8110 Poplar Grove Drive

Warrenton, VA 20187

540-341-0200
Other Regional and International Websites:

http://www.esiwaste.com

http://www.cooperinstruments.com

http://www.itea.org/

http://www.coastal-security.com/

http://www.triplesservices.com/