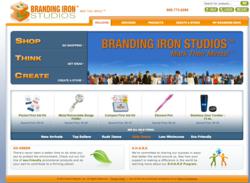 Aliso Viejo, CA (PRWEB) January 31, 2013
Branding Iron Studios, announced today its philanthropic S.H.A.R.E. program. S.H.A.R.E. is an acronym for Supporting Humanity, Animal protection, Relief for disaster victims, and the Environment.
The BrandingIronStudios.com S.H.A.R.E. program is a unique opportunity for our customers to improve the world around them. The program is operated at no additional cost to our customers, and is simply a way for our returning customers to help make a difference in the world by allocating a percentage of the purchase price of their orders to a charity of their choosing. stated Suzanne Carrasco, CEO of BrandingIronStudios.com.
Branding Iron Studios is an inspirational entrepreneurial success story of its own. The rapid growth of the promotional marketing web site has been attributed to the personalized service that accompanies every order and inquiry. "Every customer, no matter how big or small, is important and valued, and the referrals that have contributed to our growth are a testament to that", stated Carrasco.
Customers choose Branding Iron Studios to order promotional items, such as pens, apparel, and trade show give-aways imprinted with a companys logo or brand, and return because the site is easy to use, has competitive pricing coupled with monthly product promotion discounts, and highly personalized customer support.
Many companies are also realizing that dollar for dollar promotional products have a greater return on investment than other promotional channels. Industry data shows that 87% of promotional product recipients recalled the advertiser or company that gave them a promotional item. 60% of promotional item recipients indicated that they had done business with the advertiser or company after receiving the item.
As more and more individuals and companies see the value of using BrandingIronStudios.com as their promotional product and brand-building resource of choice, and as our loyal customer base continues to build, we are thrilled at the opportunities to watch the S.H.A.R.E. program build and have a greater impact of good to some very worthy causes. stated Carrasco.
Current benefactors of the BrandingIronStudios.com philanthropic S.H.A.R.E. program include:
American Red Cross

The Nature Conservancy

United States Fund for UNICEF

Doctors Without Borders

World Wildlife Fund

The Trevor Project
Visit BrandingIronStudios.com to learn more about the S.H.A.R.E. program and to explore Branding Iron Studios' huge selection of promotional products and strategic brand-building marketing services.