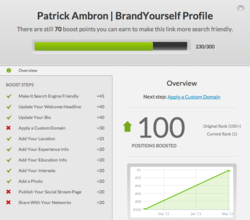 New York, NY (PRWEB) May 16, 2013
In an effort to continue to fix the overpriced reputation management industry and make online reputation management available to everyone not just the wealthy BrandYourself.com has announced that they have improved their flagship free do-it-yourself product so that its easier than ever to use, and are introducing a new BrandYourself Concierge service for people who want assistance when theyre managing their Google results.
Before BrandYourself.com, the reputation industry was broken, said Patrick Ambron, CEO and co-founder of BrandYourself.com. Current reputation management companies only cater to rich people they overcharge and on top of thatthey arent always effective in improving search results. We started BrandYourself.com to change that and empower everyone to improve how they look online.
Since its launch one year ago, BrandYourself.com has helped 200,000 people take control of their own search results. And the need for BrandYourself.com is growing. Over 1 billion names are being Googled every day. Over 75% of HR departments are required to research candidates, and over half of U.S. adults have Googled someone before doing business, working or even dating them. And over 75% of U.S. adults feel that they are not accurately represented on their search results.
BrandYourself co-founder Pete Kistler knows the online reputation industry was broken firsthand. Pete couldnt get an internship because he was being mistaken for a convicted drug dealer with the same name in Google, and he was quoted $ 8,000/mo. by reputation management firms to clean up his search results a price that Pete could never afford to pay. Pete and his co-founders realized that average people were being shut out of the market. Even worse, after doing research they decided the quality of work was far less than what people paid for So he and his college classmate, Patrick Ambron, founded BrandYourself.
BrandYourselfs product walks anybody through the same process they would pay a reputation company to do for them. Pete and I wanted to bring the power of online reputation management to everyone by creating a free product that empowered anyone to do the process themselves, said Ambron. Since we launched last year, weve signed up almost a quarter of a million users. The key is making sure that the product is as easy as possible to use and this new version is even easier and more effective than ever before.
BrandYourself is also launching a brand new Concierge service to provide higher level services to clients that need it. As BrandYourself got more and more users, some people came forward who needed extra help with their search results, said Ambron. These were people who had specific issues with their search results but didnt have the time to fix their results themselves. These were the same people that traditional reputation companies targeted with expensive ads, but failed to deliver once they became customers. The simple reason Ambron says: their model is broken. Think about it. Its expensive to get you as a customer. They need to advertise to you and call you a dozen times before youre ready to part with your hard earned dollars. By the time they understand your business, the only place to cut their costs is on the actual work.
According to Ambron, if a reputation company creates low quality content for a customer, Google quickly lowers the rank, forcing customers to need them and pay for them even more. On the other hand, those high acquisition costs dont exist for BrandYourself. Since users come to us through a well-refined funnel starting with the best product on the market thats free, BrandYourself can keep all of the work in-house, which keeps our costs much lower and the quality much higher, said Ambron. Our mission is that no one needs to use another reputation management company again. We dont want anyone to ever feel like they got ripped off.
BrandYourself.com is growing at a rapid pace, and continues to challenge the overpriced traditional reputation management industry. The company has grown from two employees to eleven, theyve raised over $ 1.5 million in venture capital attracting top investors in the field, and theyve attracted hundreds of thousands of users and thousands of customers, including top universities like Johns Hopkins and Syracuse University, whove purchased BrandYourselfs premium product ($ 10/mo.) for their students and alumni. Patrick and Petes vision of empowering average people to manage their own online search results is now becoming a reality.
About BrandYourself
BrandYourself.com is the first do-it-yourself platform that makes it easy for anyone to take control of their own Google results. It was founded in 2009 by Syracuse University classmates Pete Kistler, Patrick Ambron and Evan McGowan-Watson after Kistler couldnt get an internship for being mistaken in Google as a drug dealer. BrandYourself has raised more than $ 1.2 million in Series A funding and been recognized for its innovative technology, including being honored by the White House as one of the Top 100 Startups Run by Entrepreneurs Under 30, being named one of the Top 5 Collegiate Startups by Entrepreneur Magazine, and being named the winner of the New York State Emerging Business Technology competition, a $ 200,000 prize, the youngest team to ever win.