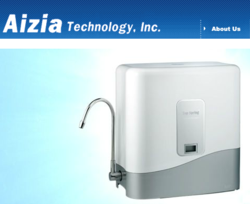 Taiwan ROC (PRWEB) April 01, 2013
Chairman Dai-Ming Kuo of Taiwans Aizia Technology Inc. has revealed a revolutionary breakthrough in water filtration technology. Through their proprietary technology, developed through a decade of research, Aizia Technology has produced a water filter system that actually reduces the size of the water molecule cluster of treated water to just 51Hz, a size well below that of the previously leading technology, ionic water treatment systems.
The size of the water molecule has important implications for both animal and plant health in that, it is believed, a smaller water molecule cluster can be more easily absorbed by the body and thus enhance the potential beneficial metabolic processes.
Verification of the effectiveness of this molecule shrinking process has been published by the Toray Research Center of Japan, a leading research institute. Their findings substantiate an NMR measurement of just 51HZ, using 170 testing standards, which compares to 127 HZ average for tap water, indicating the smallest water molecule cluster size of any other water filtration system on the market today.
As for commercial applications of their system, Aizia Technology Inc. has developed both home units and commercial systems under the moniker, Top Spring Life Energy Water.
Home systems will feature system for the kitchen that can be either placed on the counter or under the sink. The system will require no back flushing and requires no filter replacement for approximately two years for the average family. Smaller systems will be available for the bathroom sink and for the shower.
Commercial Systems for all capacities will also be available according to the specific needs of that industry.
About:
Aizia Technology Inc. of Taiwan was established in 1986 by Chairman and President Dai-Ming Kuo and is an industry leader in research and manufacture of high quality biotech water treatment systems and health products. Holding many patents, Aizia Technology Inc works with the underlying principles to care for society and upgrade the quality of life.
Contact:
Aizia Technology, Inc.

5F, 226 Min-Chuan RD, Banqiao Dist.

New Taipei City, Taiwan

TEL: 886-2-2966-4100

FAX:886-2-2965-1166

URL: http://www.aizia.com.tw