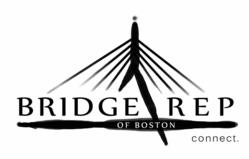 Boston, MA (PRWEB) July 03, 2013
Bridge Rep of Boston is pleased to announce their 2013-2014 season; the first for the new company. In March, Bridge Rep debuted with 'The Lover', by Harold Pinter, at the Stanford Calderwood Pavilion at the Boston Center for the Arts, to critical acclaim. Bridge Rep will continue their bold approach to theater and community driven productions with their first season, which will launch in September with 'The Libertine', a co-production with Playhouse Creatures Theatre Company, a New York City based company.
Producing Artistic Director, Olivia DAmbrosio, wants to ensure that Bridge Reps mission of connecting with audience members resonates through each production. I see how Boston and other cities rally around their teams, and ask how the theatre can be equally effective in rallying a community. After all, one goes to a game for the excitement of live action, to celebrate victory, to anguish in defeat, to watch heroes, and to feel part of a common identity, says DAmbrosio. I believe that the theater both in its immediate form as a single performance, and in its broader presence as a cultural institution has the same potential to connect people to their city, to each other, and to their own life experience.
The Libertine

by Stephen Jeffreys

directed by Eric Tucker

co-production with Playhouse Creatures Theater of New York City

September 2013
Not Jenny

world premiere by MJ Halberstadt

directed by Olivia DAmbrosio

December 2013
Hello Again

by Michael John LaChiusa

directed by Michael Bello

March 2014
4th Title – TBA

directed by Karen McDonald

June 2014
Bridge Rep of Boston is the newest addition to the Boston arts landscape. Founded by six local actors, playwrights and artists in 2012, Brige Rep of Boston aims to connect with audiences on a deeper level. Live Theater is Not an End, But a Means of Connection. Bridge Rep Connects. More on Season One here: http://www.bridgerepofboston.com
For publicity related questions contact: Laura Sullivan, Drive Public Relations + Consulting — laura(at)driveprc(dot)com or 617.286.2064