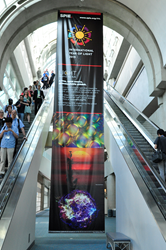 San Diego, CA, and Bellingham, WA (PRWEB) August 26, 2014
New research in nanoscience and optical engineering, visions for next-generation wearable technology, and inspiration for the International Year of Light 2015 among numerous highlights at this years brighter, busier SPIE Optics + Photonics in the San Diego, California, Convention Center. More than 4,400 international scientists, engineers, researchers, developers, and suppliers last week attended conferences, courses, an exhibition, and industry sessions sponsored by SPIE, the international society for optics and photonics.
Among the 3,100 technical presentations in four symposia were:
Hopes for using laser inertial confinement fusion to produce clean, practical nuclear energy from a pea-sized fuel pellet have improved sharply, according to Mike Dunne, director of laser fusion energy at the National Ignition Facility at Lawrence Livermore National Lab: "We have made truly spectacular advances in the last 12 months. We are now at a point where every time, more energy comes out than is absorbed by the fuel."
Data from a proposed mission to determine the existence of an underground ocean on Jupiter's moon Europa has the potential to confirm Europa's ability to support life — a discovery that would change our view of who we are in the universe, said Robert Pappalardo, a senior research scientist at the Jet Propulsion Lab and Pre-Project Scientist for the Europa Clipper mission.
The era of wearable technologies may see computing power become more mobile and versatile than many would have predicted, said Babak Parviz, one of the creators of Google Glass and now a vice president at Amazon. More compact, miniature, and personal devices could shorten the time needed to access information from the internet to just a few milliseconds, even bypassing the need for a browser. "You would just ask," Parviz said.
Michel Meunier (L'ecole Polytechnique de Montr