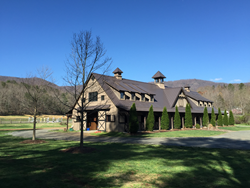 Asheville, North Carolina (PRWEB) April 27, 2015
Real Estate Scorecard had the opportunity last month to spend some time at Bright's Creek, a 4,700 acre private golf community located on the fringes of horse country. Tryon is a charming small town of about 1,600 people where horse shows date back to the early 1900s. In 1956, the US Equestrian Team prepared and trained for the 1956 Olympics in Tryon. In 2014, $ 100 million was invested in the knock-out Tryon International Equestrian Center which is still under construction. Its impressive to see. When fully completed, the 1400-acre equestrian facility will feature up to 10 riding arenas (including one with stadium seating for 6,000), 1,000 permanent stalls, elevated and shaded viewing decks, a large covered riding facility and the Tryon Sports Complex. And there's more in Tryon.
The Foothills Equestrian Nature Center (FENCE) is another equine facility. FENCE is a 380 acre nature preserve with trails for hiking, riding and bird-watching. The center, which also includes picnic areas and a pond, hosts equestrian events and concerts. To Real Estate Scorecard, Tryon is one of the best small towns in North Carolina.
For equine lovers, Brights Creek couldnt be more perfectly located. Its shiny and clean equestrian center offers everything horse owners would expect. Full service boarding, lessons of all types and guided trail rides. The 12 stall barn is a picture perfect post and beam building with matted box stalls, ceiling fans, two indoor wash racks and an automatic fly-spray system. In addition to 20 acres of lush pasture, a dressage arena and large jumping arena, Bright's Creek equines enjoy 15 miles of well-groomed riding trails through the dense forest and along trout streams. To date, $ 1.7 million have been invested in the equestrian facility. Since 2014, the new owners of Brights Creek have invested about $ 100,000 in jumps, security and upgrades. Real Estate Scorecard wouldn't be surprised if Bright's Creek gained a new name for itself as one of the best barn wedding venues in North Carolina.
The topography and curb appeal of the community has always captured Real Estate Scorecard's eye. Its championship Tom Fazio golf course quickly put Brights Creek on the map back in 2003. The course is still as beautiful as ever and was ranked #49 Best Residential Course by Golf Week Magazine in 2013. While golf has been the core amenity up to now, Real Estate Scorecard believes the equestrian amenities are equally as significant considering everything happening in Tryon. The equestrian center is getting busier every day. Equine events include jumping and cross country exercise clinics, horse camps and more. Brights Creek offers something Real Estate Scorecard hasn't seen in equestrian master planned communities – a two night Equestrian Hospitality Package for folks and their horse. Folks looking for horse property, would be wise to start here and now.
Property owners can own a home at Brights Creek on a mountain top where the eagles soar at around 3,200 feet or set in the valley, in around the golf course or near the equestrian center. Beautiful creeks and mountain streams weave through the community feeding into the Green River, a popular place for fly fishing, kayaking and rafting. Naturally, Brights Creek has several waterfalls on property. Real Estate Scorecard hiked the Waterfalls Trail during the visit. Its a fantastic and easy hiking trail leading to a 50 foot waterfall and picnic area. Cliffield Mountain Field Trail and McCraw Mountain Trail are two more hiking trails within the neighborhood. Whether property owners are mountain bikers or hikers, theres really no need to leave Brights Creek to enjoy the dramatic beauty of the Blue Ridge Mountains. If folks wanted to venture out, Greenville, Asheville, Hendersonville and Lake Lure are all within an hour's drive. For mountain lovers, its the ideal 100 mile radius to live in near the Tryon International Equestrian Center.
At the end of a fun-filled day, members can retreat back to the outstanding restaurant and bar at the Members Lodge featuring tasty cuisine created by North Carolina Celebrity Chef Brian Kerr. Dishes include fresh Whole Maine Lobster Night, Prime Rib Night and Chef Kerrs Signature Southern Meal. The grill at the club is open 6 days a week for breakfast. Lunch Tuesday through Sunday. Dinners are served Thursday through Sunday. The Members Lodge has 10 one-room suites, 2 two bedroom condominiums, 2 four bedroom condominiums and a Retreat Home with 8 bedrooms. Thirty six custom homes have been built to date and they are show stoppers. Homesites begin in the mid $ 100k's with long-range mountain views or golf course views or folks can own one of the re-sale homes. Soon Brights Creek will begin construction on the Cottages at Glenn Court. Future amenities on the drawing board include a Swim & Fitness Facility, Gun Club, Tennis Facility and Outdoor Activity Center.
Real Estate Scorecard sees an equine gem in the making on the southern end of Western North Carolina at Brights Creek and believes now is a smart time to buy before the equine world drives prices up near the Tryon International Equestrian Center.
About Real Estate Scorecard:
Real Estate Scorecard writes unbiased real estate reviews providing in-depth information about popular gated communities in Florida, Georgia, North Carolina, South Carolina and Tennessee, all in an effort to help people discover where to retire in the South.
Website: http://realestatescorecard.com