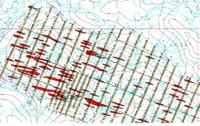 Vancouver, BC (PRWEB) September 03, 2012
QMC Quantum Minerals Corp. (TSXV: QMC) (QMC or the Company) is pleased to announce that further to its news release of May 10 , 2012, work has commenced its British Columbia Mining Project, (Mugaha Gold property) (the 'Property') for helicopter supported systematic trenching and sampling.
The trenching will be carried out with a (CANDIG model 21) and will cover the 25 gold-in-soil anomalies to define the bed-rock source. Using this equipment, minimal impact for land disturbance and timely reclamation will be obtained.
The Mugaha property consists of 12 MTO claims aggregating 5,502 hectares and is located 15 km. north of the town of Mackenzie and roughly 160 km. by road north of the city of Prince George, B.C. Access and infrastructure are good with the western part of the property being road accessible. The town of Mackenzie has most services including an airport and contract helicopter availability. The property is heavily forested except for a few logged areas. Topography is moderate and exploration work can be carried out between May and October.
Gold mineralization was discovered on the property in 2006 by Wealth Minerals after several years of extensive exploration of geological mapping, prospecting and geochemical surveys.
Hand trenching outlined a number of mineralized quartz veins and veinlets in sheared and faulted slate and siltstone. Several veins and veinlets were outlined and could be traced intermittently for about 120 meters along strike and remain open in both directions. Gold values are highly erratic and metallic screening analyses indicate that a significant amount of the values occur as free gold. Mineralized veins are generally sheared and highly fractured and contain sporadic pyrite and base metal sulfides. Eight of 13 trenches cut mineralized quartz veins and values ranged from less that 1 g/t gold over 1.0 meter to a maximum of 139.1 g/t gold over 1.0 meter. Other significant values obtained in the trenching are 2.97 g/t, 4.19 g/t, 3.11 g/t, 6.94 g/t and 14.81 g/t over 1.0 meter widths respectively and grab samples assaying up to 111.71 g/t and 22.81 g/t from six trenches.
The property is underlain by weakly metamorphosed and complexly deformed rocks of the Upper Proterozoic Misinchinka Group. The Misinchinka Group consists of a thick monotonous sequence of siliciclastic and lesser carbonate rocks of turbidite affinity deposited on the western margin of ancestral North America. Regarding investing in gold stocks, the QMC management team feels confident in its ability to create shareholder value through discovering and developing world-class Gold deposits.
The technical content of this news release has been reviewed and approved by Mohan R. Vulimiri, M.Sc., P.Geo, who is a qualified person under the NI 43-101 guidelines and a Director of the Company.
The TSX Venture Exchange has not reviewed and does not accept the responsibility for the adequacy or accuracy of this news release.
This press release contains certain forward looking statements which involve known and unknown risks, delays and uncertainties not under the Companys control which may cause actual results, performances or achievements of the Company to be materially different from the results, performances or expectations implied by these forward looking statements. This news release does not constitute an offer to sell or a solicitation of an offer to buy any of the securities in the United States.