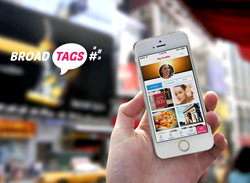 Valley Cottage, NY (PRWEB) July 12, 2014
A versatile and dynamic free social media app now available on the Apple iTunes App Store and Google Play which connects users around the world and updates them on their favorite topics using hashtags.
In a move to create an innovative and unique mobile app in the fast evolving mobile social media space, BroadTags LLC, a New York startup, has launched its social media app called BroadTags. The free social media mobile app enables users to follow the topics of their choice and connect with each other through specific keywords and key phrases defined as hashtags. The company has leveraged industry-leading technology to bring to users of mobile phones and other hand held devices a way to Create, Tag and Follow using hashtags, an industry first.
Follow Hashtags and not People
The single most differentiating factor which sets BroadTags apart from other social media mobile apps, is that users follow hashtags and not people or organizations. This innovative emphasis on topics, trends and events as opposed to individuals provides users of BroadTags a new way to locate information that is purely user defined and user denominated. The company has even created a highly entertaining animation figure called Hashtags who captures the life and soul of the social media app through a catchy rap music video.
A Breeze to Use
As more users turn to mobile apps to perform tasks and connect with each other, social media apps are quickly becoming the rule rather than the exception. BroadTags addresses this pervasive need by providing a user experience that enables registered users to build profiles, share multimedia content, and tag their favorite stories by simply following specific hashtags. BroadTags, which is now available on the Apple iTunes App Store as well as on the Google Play Store, aims to deliver a rich blend of simplicity, ease of use and seamless navigation so that users can be up and running in no more than five minutes.
No Limit to Hashtags on BroadTags
Users are empowered with the ability not only to follow popular hashtags such as #technology #fashion, #music, #gaming, #cars, #coffee or #sport but can also refine their hashtag searches using relevant modifiers such as #WorldCup or #wearabletechnology. What is more, they can even create their own unique hashtags and post content based on them which other like-minded users can share. The social media app is also a dynamic multimedia app in that users can like, comment and share video, audio and images. Users who have established connections on BroadTags can message each other as well as re-post content so that it reaches a wider audience of Broadtaggers who share similar interests and preferences. Users can message an entire community or privately message each other.
A Productivity Tool
In addition to helping friends and like-minded individuals find each other and build connections through social media, BroadTags can also be used as a tool to enhance productivity. The ability to follow user-defined hashtags, combined with its powerful spam fighting features, enables BroadTags to locate and organize specific types of information and multimedia resources that are of interest and relevance to professionals. The hashtag #remarketing, for instance, will point to content about remarketing and behavioral advertising of interest to digital marketers and online advertising professionals.
User-defined Privacy Settings
Much like mainstream social media platforms, BroadTags also lets members of its community define their privacy settings. They can limit profile visibility, for instance, to an inner group.
For the first time, in January 2014, mobile Internet traffic surpassed traditional Internet traffic, according to ComScore. This paradigm shift has also impacted user behavior. How they spend their time on their mobile devices has also undergone a transition in that interaction and engagement is more app centric rather than browser centric, according to a research study conducted by Flurry, the web analytics firm. This trend has also impacted social media behavior on mobile devices thus enabling BroadTags to anticipate a significant following and a wide level of acceptance.
About BroadTags LLC
Established in 2013 with a commitment to harnessing the latest mobile app technologies to enhance user engagement, BroadTags LLC is poised to bring to the technology forefront creative applications that involve a confluence of voice, data, video and digital imaging on mobile handsets.
Contact
Website: http://www.BroadTags.com

Email: info(at)BroadTags(dot)com

Phone: +1 404-963-8523
Facebook: http://facebook.com/BroadTags

Twitter: https://twitter.com/broadtags – @broadtags

Google+: https://plus.google.com/112430429346854098417

YouTube: http://www.youtube.com/user/BroadTags

Pinterest: http://pinterest.com/broadtags/

Instagram: http://instagram.com/broadtags