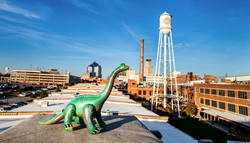 Durham, NC (PRWEB) August 13, 2014
Bronto Software, the leading marketing platform for commerce, announced today it will more than double its presence on the American Tobacco Campus by adding 47,000 square feet to its office for a total of 80,000 square feet. Acquiring the former HTC space, the lease of the new location is in close proximity to the existing office and marks the largest investment to-date that Bronto has made and secures a long-term location for its world headquarters in downtown Durham.
This will be Brontos 12th expansion since moving in as the one of the first tenants on the American Tobacco Campus more than ten years ago, said Joe Colopy, chief executive officer and founder of Bronto. The move reflects our focus on high growth and further supports our goal of remaining one of the preeminent places to work in the Triangle and being a center for software innovation.
Bronto has outpaced its hiring projections for 2014 and now employs over 200 people in the Durham headquarters office. With many new engineering and sales positions currently open at Bronto, the new space will provide enough room for additional growth of the product and engineering teams as the company continues to expand its industry-leading commerce marketing platform.
Recent Bronto milestones driving the companys growth include: