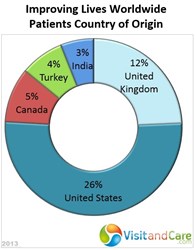 Los Angeles, CA (PRWEB) January 28, 2014
Patients gravitate towards doctors, hospitals, and clinics that are visibly trustworthy. Building this type of reliably perceptible presence encompasses influential guidance guidance that creates revenue and productivity.
Top medical tourism company, VisitandCare.com, creates credibility, individuality, and eccentricity for its exclusive partners to thrive in todays healthcare industry by offering multilingual, marketing expertise to ensure that their partners stay on the cutting-edge.
Becoming an exclusive partner of VisitandCare.com leads to a strong brand identity, with one intangible attribute: the ability to connect expressively with patients in a mass market outside of their native social platform.
The company provides its partners with the proper tools for managing foreign patients effectively, and supplies customized patient management software to organize their inquiries.
The Essence of Branding
"Building a connected brand requires creative and strategic influences, our team is absorbed into creating these strengthening effects, stated Tolga Umar, CEO and Founder of VisitandCare.com.
To date, VisitandCare.com has helped its partners earn over 25 million dollars in new patient revenue and qualified new partners into its exclusive network from 55 countries in the last 3 years.
With an expanding global team, the company has generated over 60,000 patients for its network of doctors, hospitals, and other healthcare practices over the last year alone.
Stimulating Brand Progression
For healthcare organizations, brand progression is vital to being recognized and perceived in the public eye.
Through effective online marketing, search engine marketing (SEM), social media promotions, web design, content writing, patient coordination services, link building, software development, press release distribution, and more VisitandCare.com is able to build and manage healthcare reputations consistently across channels that get recognized, honored and shared.
Not only is the company helping satisfy the expectations of patients, building your presence with VisitandCare.com demonstrates a competitive advantage and consistently communicates a resounding aptitude to improve lives across a global platform.
VisitandCare.com partners with select members of numerous leading industry standards organizations, including the International Organization for Standardization (ISO), Joint Commission International (JCI), Medical Tourism Association, International Society of Aesthetic Plastic Surgery (ISAPS), European Society of Hair Restoration Surgery (ESHRS), International Society of Hair Restoration Surgery (ISHRS), American Society of Plastic Surgeons (ASPS), American Academy of Cosmetic Dentistry (AACD), and the American Board of Hair Restoration Surgery (ABHRS).
Top medical branches that are offered through VisitandCare.com include fertility care, surrogacy, plastic surgery, cosmetic dentistry, laser eye surgery, orthopedic surgery, hair transplantation, weight loss surgery, heart surgery and cancer care.
VisitandCare.com allows its exclusive partners the ability to reach diverse communities across the globe, with services provided in 6 languages English, Spanish, Turkish, Arabic, Russian, French, and German. The collaborative efforts are provided across a network of offices, including corporate offices in the United States, Mexico, Tunisia and Turkey.
Does your brand provide consistent growth? Sustainability? Ascendable results? Contact VisitandCare.com to explore innovative ways to build your healthcare brand.
About VisitandCare.com

VisitandCare.com was created to give individuals worldwide valued direction locating a doctor, obtain free medical treatment quotes, and uncover affordable medical treatments at destinations of their choice.
Improving Patients Lives |The company provides access to exclusive doctors and hospitals who specialize in infertility, plastic surgery, cosmetic dentistry, laser eye surgery, orthopedic surgery, hair transplantation, weight loss surgery, heart surgery and cancer care. Patients are matched with devoted multilingual patient facilitators and provided tangible connections to doctors worldwide.
Promoting Your Healthcare Brand | For the ultimate connection between the healthcare industry and patients worldwide, the company delivers an unrivaled commitment to create sustained value for medical partners.