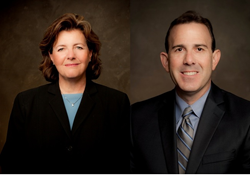 Phoenix, Arizona (PRWEB) January 12, 2015
The law firm of Burch & Cracchiolo, P.A., is pleased to announce that Wendi A. Sorensen and Gregory A. Rosenthal have been named partners with the firm.
Sorensen is a certified Specialist in Personal Injury and Wrongful Death Law and currently serves on the Arizona State Bar committee that confers certification status in this practice area. Sorensen brings thirty years of litigation experience in the catastrophic personal injury/products liability practice area and in federal and state court matters focusing on transportation and vehicle liability, including complex vehicular claims.
Sorensen received her JD from Arizona State University Sandra Day OConnor School of Law in 1984 where she was a Pedrick Scholar. She graduated summa cum laude with a BS degree in Business/Economics and Behavioral Sciences from Westminster College in Salt Lake City, Utah in 1981.
Sorensen has been selected as a Southwest Super Lawyer every year since 2012, and in 2013 was named one of the Top 25 Women Attorneys in Arizona by the respected ranking organization. In 2014 she was named a Top Lawyer in the Specialist category by Arizona Business Magazine.
Rosenthal is an AV