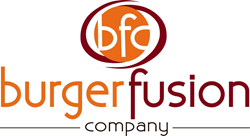 La Crosse, WI (PRWEB) February 28, 2014
The BLU Group – Advertising and Marketing is proud to announce that they have been chosen by Burger Fusion Company, La Crosse, Wisconsin, to design and develop the company's first website. The new website will feature Burger Fusion Company's full menu, a strong social media integration component, and various clubs for their customers to join.
We are extremely proud to have the opportunity to partner with Burger Fusion Company, said Tony Roberts, President at The BLU Group Advertising and Marketing. Our goal is design a website that helps this brand take off in the La Crosse area and set it up for future success in additional markets. said Roberts.
In the words of Matt Boshcka, co-owner of BFC, Burger Fusion Company is a unique fast-casual restaurant that specializes in gourmet burgers, signature mac 'n' cheese dishes, and build-your-own shakes. The term "fusion" in our name comes from the fact that we have a handful of burgers that fuse different meats together. For example, our original menu as a burger called the Oktoberfest Burger and is a mixture of ground Angus and ground pork, thinly sliced black forest ham, beer mustard, sauerkraut, Swiss cheese, on a pretzel bun." For more information about this hot, new dining destination, visit https://www.facebook.com/BurgerFusionCompany.
About The BLU Group Advertising and Marketing: The BLU Group is a full-service ad agency that specializes in: Market Research, Marketing Strategies, Corporate Identity, Broadcast and Print Advertising, Graphic Design, Billboard Design, Catalog Design, Direct Marketing, Website Design, Search Engine Optimization (SEO), E-Mail Marketing, and Social Media. Serving companies throughout the nation, The BLU Group is dedicated to strengthening their clients' brands and growing their business through traditional and non-traditional mediums. For more information, visit TheBLUGroup.com or connect with them on Facebook and Twitter.